13/11/2020
The world of business is flooded with buzzwords and jargon, which are used to describe a range of different commercial actions and disciplines. Marketing is no exception when it comes to this rule, especially in the digital age where brands have a huge range of promotional channels to choose from.
Stripped down its core, however, marketing is defined as "the social process by which consumers and brands obtain what they need and want through creating and exchanging value with others." So, whilst brands may use various techniques to market themselves, the underlying objective remains the same. 
Push and pull marketing is a very relevant example of this because, whilst both the strategies work in different ways, the ultimate objective of both is to draw in consumers, build brand awareness and ultimately drive sales.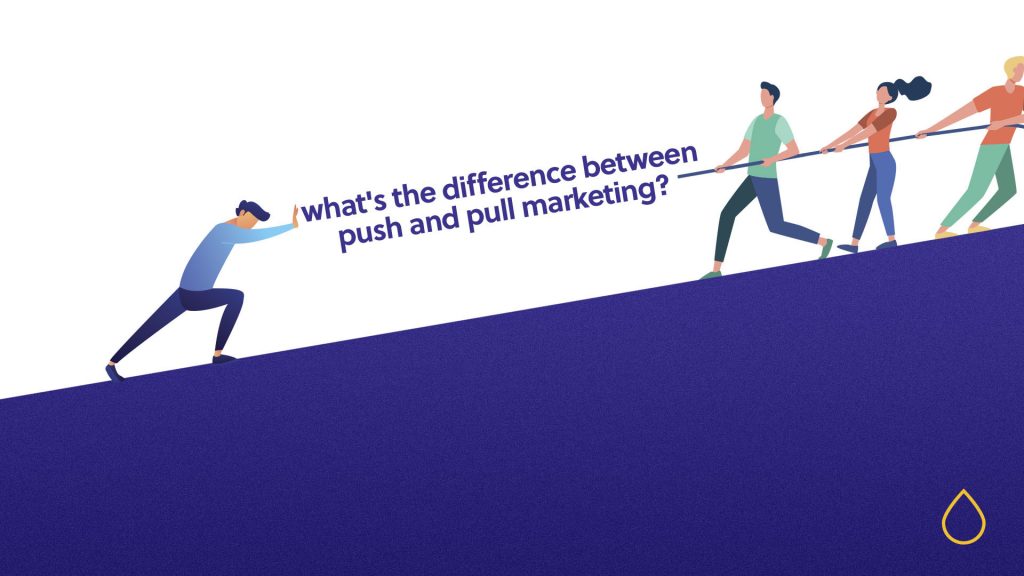 So, in this blog post, we're going to look at what the difference is between push and pull marketing and how you can leverage the 2 strategies successfully.         
The Basics of Push and Pull Marketing 
Push marketing and pull marketing are 2 different strategies that combine promoting products to target buyers, while other marketing tactics will entice buyers to come to a brand. 
Both strategies are complementary to each other and can be used to entice and engage any type of consumer. However, one technique that works best is to segment your data and use one particular strategy for a certain area of your business. 
Whether you use push or pull marketing or both together, the key to being successful is making sure that your messaging and value proposition is consistent throughout.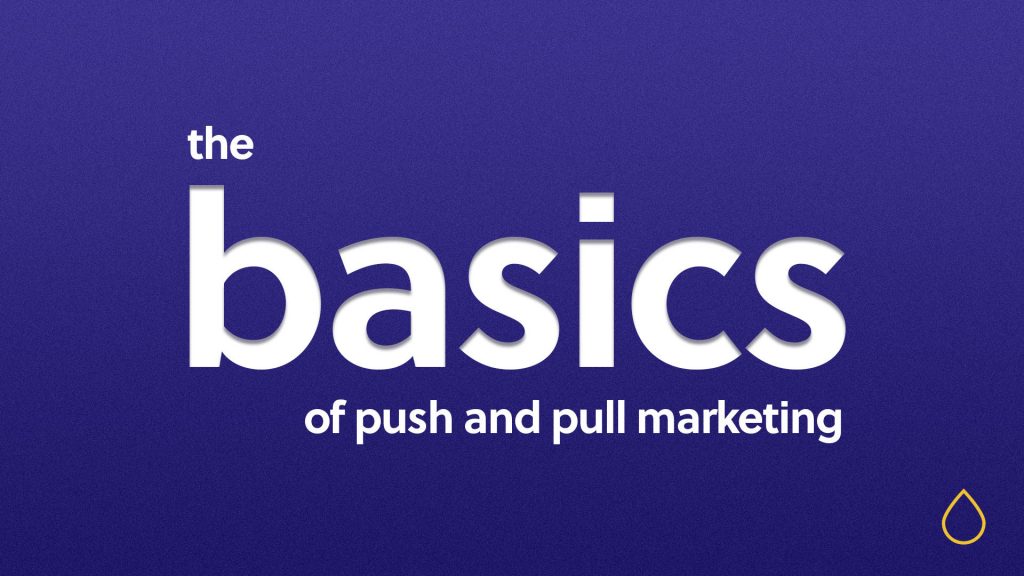 Push Marketing
Let's start with push marketing. It's any kind of marketing where products and/or services are being pushed into the path of consumers. It's an interruptive mode of marketing, but that's not necessarily a bad thing. TV and radio adverts are good examples of push marketing as well as printed ads in newspapers and magazines. 
The best thing about push marketing is that it produces very quick results and provide clear statements and product pitches to prospective customers. 
A downside of push marketing is that it can be expensive and only produce temporary effects. Since the goal is not to create long-term relationships, push marketing strategies have to be constantly running and communicating the value of a brand's products. 
In other words, push marketing keeps consumers at a fair distance, meaning that in order to retain their attention, they must constantly be engaged. So, let's take a look at some of the different types of push marketing and what their advantages are.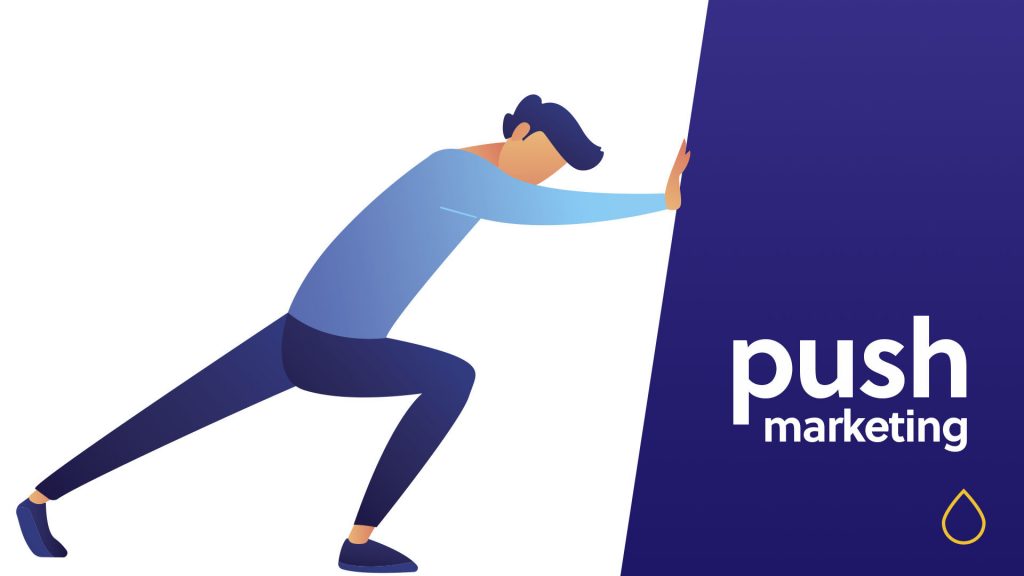 Direct Mail
Wait hold on a minute…direct mail, as in letters? Is that even effective in today's internet-driven world? Yes, it absolutely is! Not many brands do it anymore and even less do it really well, which is why it's so effective when done right. 
Direct mail physically puts your logo, message and brand identity in front of consumers faces. Whilst email inboxes are often overloaded with unwanted messaged, a piece of direct mail needs to physically opened and engaged with.
Even if a piece of direct mail doesn't result in a sales lead or purchase, it can increase overall brand awareness. Direct mail takes up physical space, and if it provides value to the person who receives it, it's far more likely to be held on to until they have more time to consume it. 
Native Ads
Native ads are adverts that match the style and function of the platforms they appear on. This could be on Instagram, Facebook, Twitter or a landing page, but the defining factor of native ads is that they shouldn't look likes ads. They should be non-disruptive but get advertising content in front of users. 
Native ads work really well on mobile devices because you don't have the same about of space to work with for display ads. What this means is that native ad content can sit on a mobile device whilst users scroll through their social media feeds. These types of ads normally contain a number of elements including a headline, URL, some descriptive text and an image. 
Point of Sale Displays
Point of sale displays (POS) are an essential marketing tool that are used in retail stores. By not using them, businesses are missing an opportunity to entice consumers and increase their sales. These displays aim to attract customers and introduce them to current offers and deals to encourage them to buy the products that are on display. 
An excellent benefit of point of sale displays is an increased aesthetic appeal, by creating a visually pleasing display, customers will be more attracted to the products that are on display and therefore will be more likely to buy them. 
Pull Marketing
Pull marketing can be defined as a marketing method designs to attract consumers to a product or service without being forceful. But, how are you able to do that?
It's done through the creation of content – videos, blogs, e-books, whitepapers, case studies, press releases; they're all content. 
The reason that content is so effective at pulling in prospective customers is that rather than try to sell to them; it addresses their pain points. Consumers use search engines mostly for information and answers to a challenge they're trying to solve so when a business gives them what they're looking for; they'll likely consider that business's products or services.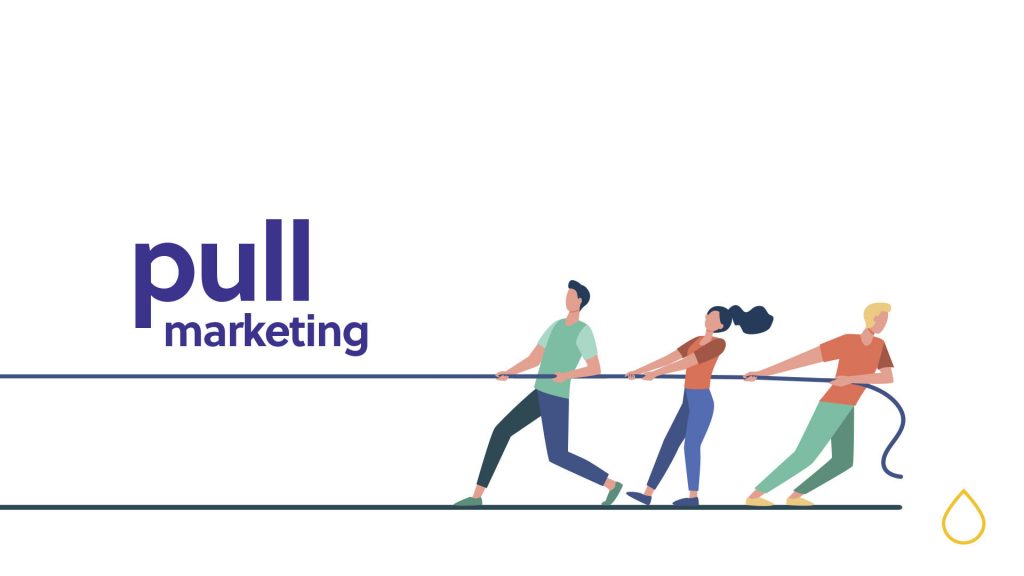 So, what types of marketing and tactics should you use be using as part of your pull marketing strategy. Give the following a go…
Email Marketing
The huge return that email generates outshines all other types of marketing including influencer marketing, Google Ads, social media marketing and SEO. We're not saying these are bad forms of marketing, however. They're all great and can be highly effective, Google Ads particularly.
But, no other form of marketing will bring you a 4,000% return on investment. With email marketing, you can create personalised content and customise your campaigns. Personalisation can be really small such as including a contact's name in the email. In fact, emails that include the name of the recipient in the subject line have a higher open and clickthrough rate than those that don't. 
On the other hand, you can also personalise content that is based on your audience segments so that you send the right messages to the right people. 
SEO
SEO is a key part of a pull marketing strategy. That's because the majority of your web traffic will come from Google queries. Optimising your website with keywords that are relevant to your business is a major part of improving your profile on search engines and helps you get seen by more consumers. 
This isn't anything new, but the search engines are always updating their algorithms to improve results. The days are long gone where devious business owners and marketers could keyword stuff their websites.
If you want to improve your website's ranking position, you should always keep a lookout for algorithm changes and focus on creating content that consumers will want to read, engage with and enjoy. 
Social Media Marketing
Social media marketing is an extremely valuable tool for promoting a business, product or website to the masses. Internet users spend a lot of time on social media networks such as Facebook, Instagram, Twitter and TikTok. Establishing a strong presence on these social media networks can increase website traffics, grow advertising revenue and ultimately improve sales. 
It also gives you the opportunity to engage in conversations with users, increase brand awareness and a "human face" to a business. Whatever networks your target audience use, there's no reason why social media shouldn't be part of your pull marketing strategy. 
Influencer Marketing 
Over the past few years, influencer marketing has become an established form of pull marketing. Yet, there are still 1000's of business owners that don't really understand what it's all about. Lucky we're here right?
Influencer marketing involves a business collaborating with a social media influencer to indirectly promote one of its products. Some influencer collaborations are slightly less tangible than that where a business might work with an influencer simply to improve brand awareness. 
An influencer is someone who has enough power to affect the purchase decisions of those who view their social media posts. They can do this because they're seen as an authoritative figure by their followers.
Influencer marketing isn't particularly new; it grew from celebrity marketing. For years and years, celebrities have promoted products for an enforcement fee, and this is a form of influencer marketing.
PPC
PPC (pay-per-click) is a way of driving warm traffic to your website from Google by buying clicks rather than organically earning them. PPC is easier to achieve success in the short when compared to SEO which is a slow burn (but, still worth it!). 
Many PPC management platforms, including Google Ads, allow you to segment different demographics. You can target people based on their location, gender, age and interest so you can attract users who are more likely to convert. 
Need a Team of Experts to Take Care of Your Marketing?
So, there you go, the difference between push and pull marketing. As a business owner, you need to use these strategies to push your message out to prospective customers and also pull them towards you organically to grow both of which we are experts at doing.
If you're looking for a digital marketing agency who will take the time to understand your needs, provide you with excellent service and work with you to improve over time, then consider working with us.
Sound good? If you would like to speak with us about push and pull marketing and how we can help your brand succeed, please get in touch with our team. Call us on 01702 619 139 or visit our contact page today!