14/08/2020
If you've never heard of influencer marketing, you may consider it as just another branch of digital marketing – maybe even just a short-term trend for the younger generation.
However, influencer marketing is so much more than that. It's now become an incredibly important way of promoting goods and services on social media. So, now we've said that, you might be wondering why exactly this is.
Well, it's now the most authentic and genuine method of digital marketing and brings a tangible return for businesses willing to invest in it.
What is Influencer Marketing?
Influencer marketing (also known as social media influencer marketing) is pretty much one of those terms that does exactly what it says on the tin. It's when businesses work with people of significant influence to complement their digital marketing efforts. So, what on earth is an influencer?
An influencer (also known as a social influencer) is someone who has enough power to affect the purchase decisions of those who view and interact with their content. They can do this because of their position and are seen as an authoritative figure by their followers.
The amount of followers that an influencer will have ultimately depends on the scope of their niche. For example, a fashion influencer will have far more followers than a devotee of astrology.
Influencer marketing isn't particularly new; it grew from celebrity marketing. For years and years, celebrities have promoted products for an enforcement fee, and this is a form of influencer marketing.
But, modern influencer marketing is so much more than a celebrity promoting unrelatable products to their fans. As the internet has evolved over the years, certain people have established impressive reputations as digital stars. These are the people that are now widely considered to be modern influencers.
However, they have only built their reputations because they specialise in a particular niche, product, or industry. They might have created an established blog on a certain topic. Perhaps, they've made loads of videos and uploaded them to their YouTube.
Or more often, they have built up their social media accounts and follower counts by giving their opinions and advice relating to their niche.
Influencer Marketing vs Content Marketing
Many people struggle to distinguish the difference between influencer marketing and content marketing because they are both interrelated to a certain extent.
Content marketing is when a business creates and distributes valuable content. The content is produced to attract and engage a specific target audience. Of course, the ultimate aim is to lead the readers into taking a profitable action such as buying a particular product or service. Content marketing covers the entire spectrum of creating and using content to fulfil a set of specific business goals.
As we previously discussed, influencer marketing involves working with a person of influence to distribute content. Of course, there is a big content creation element when it comes to influencer marketing, but the main focus is on the distribution of the content itself.
So, yes, content marketing and influencer marketing are different, but as a business owner, you shouldn't just be focusing on one. Both are essential when it comes to achieving your KPIs and building trust with your target audiences(s).
However, as a digital marketing agency, we would always recommend investing in content marketing first because content forms the basis of a successful influencer marketing campaign. Why? Because it can be extremely difficult to build an influencer marketing strategy without having a strong brand message and tone of voice first.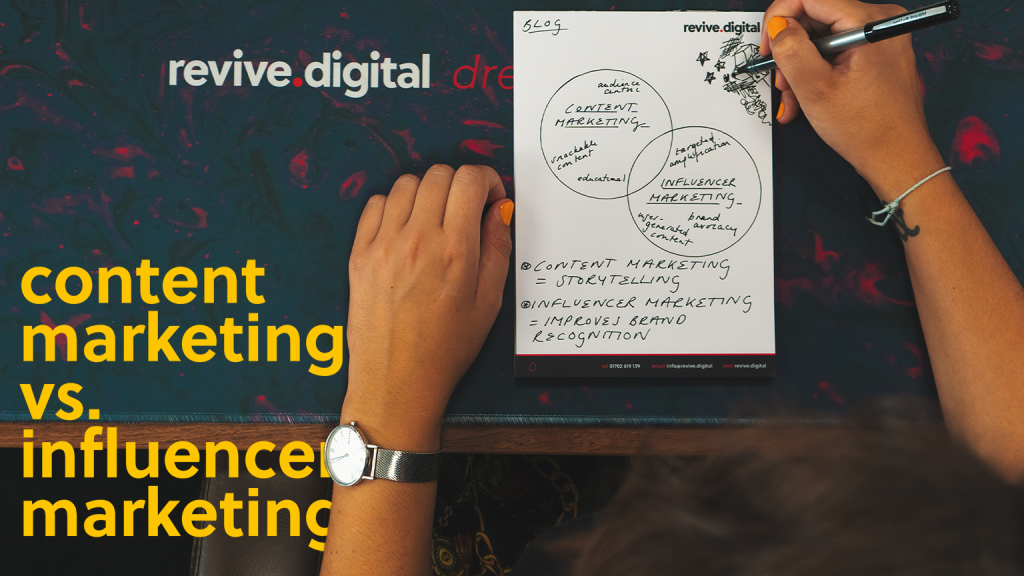 Why You Need Influencer Marketing
When was the last time you looked at a banner ad when browsing the internet? Exactly. Most people don't even notice them anymore. And, many of those who do take notice, choose to install an ad blocker to remove them.
However, that's not to say that banner ads are not effective. When set up correctly, they're a great way to driving instant traffic to a website.
Maybe you have given social media marketing a go. This has some potential to make a difference to your business because people are spending a lot more time on social media these days.
But, there is an issue with this. Who is going to see your social media updates? Unless you have managed to generate a large number of followers on each of your channels, you're unlikely to have much reach or impact.
The vast majority of social media networks are making it a lot more difficult for businesses. They want your advertising budget, so they are making it much more difficult to reach people with organic content.
And, the recent changes that Facebook have introduced further compounds this point. They have adjusted the news feed algorithm to favour content from family and friends and greatly reduced the visibility of business pages.
The average person on social media will have a network of a couple of hundred friends. These friends will have a wide range of personal interests. More often than not, the only thing they have in common is that they are simply connected on social media. They may enjoy playing the same video game or listen to the same genre of music, but this makes it extremely difficult when it comes to businesses trying to reach a specific target market.
But, influencers are entirely different. They have built networks of like-minded followers. And, in some cases, these follower networks are colossal.
So, imagine how many relevant people you could reach with a trusted influencer compared to using conventional targeting. Some businesses actually succeed in building their online identities to the point where they become influencers themselves.
How Can Influencers Help Your Business?
The amount of help you can expect from an influencer will generally depend on the partnership you can forge with them. If you choose to take an organic outreach approach, then you'll likely receive less help from an influencer than if you pay them for a full campaign. Of course, the cost will be significantly higher too.
Opting for the organic outreach approach may result in an influencer working with you for free or in exchange for some free products. A formal paid campaign will cost you quite a bit, depending on an influencer's power. But, you will receive far more in return compared to what you initially spend.
An influencer who you've built an organic partnership with could help you by:
Creating a blog post about your business and your products.
Promoting your business on their various social media accounts. For example, they might post a photo of them holding one of your products
Giving you access to their website, so you can write and publish a guest post that promotes you as a business.
However, an influencer that you pay for a full campaign will be far more proactive when it comes to promoting your business. They might film a YouTube video where they talk about your business or post a group of photos on Instagram that shows them using one of your products.
In this scenario, they are not helping you because you have a relationship. They are earning the money that you have chosen to invest in them. To them, it's a job (but, a job they enjoy doing).
However, it's important to highlight that you can't expect all influencers to provide your business with clear-cut praise. They are influencer because they have spent a great amount of time building their followers and being authentic with them.
In fact, you'll be extremely lucky to find an influencer that will work with you if they dislike your business and products.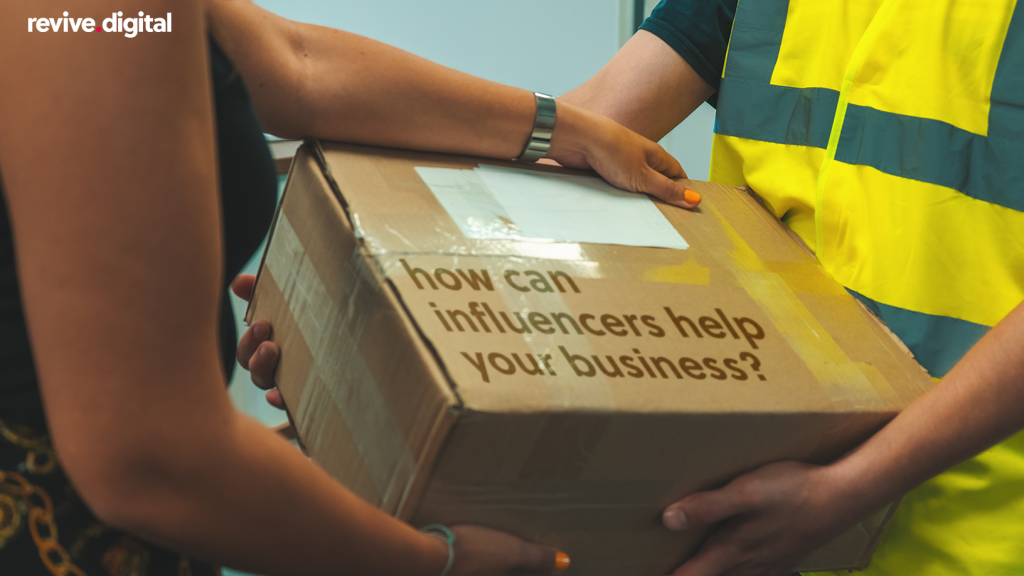 How to Determine Your ROI
As you may or may not know, ROI (return on investment) is used to determine whether a campaign has been positive or negative. The formula is quite simple:
ROI = (Profit – Investment / Investment) x 100
An easy way to keep track of your influencer marketing ROI is to look at engagement and impressions. The number of social media posts, the different type of content being posted and number of posts that went viral are the other things you should keep an eye on.
But, before launching an influencer marketing campaign, it's imperative to decide what you want to achieve. Establishing your end goal is how you'll measure your success. Here's some of the most common goals:
Brand Awareness
There are 2 ways to measure brand awareness. The number of social media posts and the impressions they generate.
Brand Uplift 
Brand uplift takes brand awareness to the next level. It refers to a measurable increase in your social media following or website leads.
Direct Sales
Offering unique discount codes can help track sales from a campaign and help you see which influencer generated the most sales.
The Different Types of Influencers
When it comes to the world of influencer marketing, each type of influencer fits into a certain category. Whilst the categories might seem like a bunch of marketing buzzwords, they're important breakdowns of the different types of influencers, especially when it comes down to their follower bases. Without segmentation, any influencer marketing campaign stands a much higher chance of failure.
Mega Influencer
One word to describe mega influencers would be celebrities. Think Kim Kardashian, Selena Gomez and Kylie Jenner. They typically have millions of followers from different backgrounds and with different interests.
They're not necessarily experts in any specific industry or niche, but one Instagram post from them can be an immediate success. However, be prepared to pay a sizable fee if you're looking to secure a celebrity endorsement.
Macro Influencer
With followers normally ranging for 100,000 to 2 million, macro influencers gain their fame by producing content that resonates with their audience. Obvious examples would be Kendal Jenner and Olivia Jade. They can reach an exceptionally large audience but do come with an expensive price tag.
Micro Influencer
Micro influencers are those with followers between 1,000 to 100,000. They often produce value-packed, authentic and highly relatable content. They typically have an extremely specific niche and are regarded as experts. The best thing about them is the strong relationships they have with their followers.
Nano Influencer
Nano influencers (also known as content creators) have about 1,000 followers or less. The power they have behind them is that they're "everyday people" who can influence their family and friends. But, just because they have small amounts of followers doesn't mean they can't make a huge impact. In fact, they have the highest engagement rates because of the personal interactions they have with their followers.
How to Find The Right Influencers
The very first step of executing an influencer marketing campaign is knowing which people you should target. So, the obvious question here is where can you find influencers to work with? Here's some of our ideas.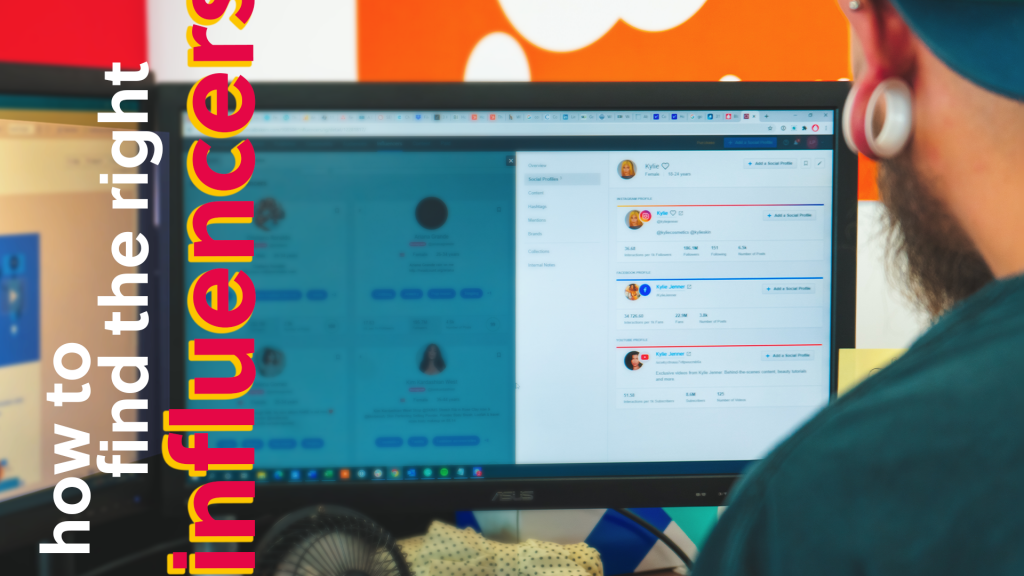 Use Hashtags
Hashtags make content searchable and accessible on the various social media platforms. So, why not search for hashtags that might be relevant to your brand? This will help you find influencers for an upcoming campaign.
Follow these steps to find Instagram influencers:
Search for #Influencer, #Sponsered, #Ad, or #PicOfTheDay on Instagram and take your time to look at the results.
If you come across a photo that you like, check out the creator's account.
If you like some of their other content, check if they specialise in the same niche as your brand.
If they have a decent amount of followers, then it's a good idea to take a look at their engagement rate by using tools like Kicksta.
If you then think that they're a good fit, you can add them to your influencer outreach list.
Social Media Listening
One of the easiest ways of finding relevant influencers for your business is by looking for the ones who are already talking about you online. Social media listening tools such as Mention can help you track all of your brand mentions across the various social media platform.
You can use it to respond to customers messages/comments and find influencers who are talking about you.
Google Alerts
Using Google Alerts is another method you can use to find influencer content. You can do this by setting up keyword alerts that are relevant to your business. This can help you find people who are writing content about topics that relate to your industry niche and products.
Influencer Marketing Platforms
Using influencer marketing platforms will help you find relevant influencers for your business quickly and with ease. They allow you to search their influencer databases and filter by social platforms, engagement rates, reach, follower counts and much more. BuzzSumo, Upfluence and Socialbakers are just some of the platforms you can use.
Handy Influencer Outreach Templates You Can Use
Influencer outreach templates are the messages that you mass email to influencers at the start of a campaign. These messages should clearly explain the purpose of your outreach, whether it's to get a social post, product review, guest post or something else.
For these messages to be effective, they need to be relevant, clear, and as persuasive as possible. Below, we have compiled a summary of the approaches that will be the most effective.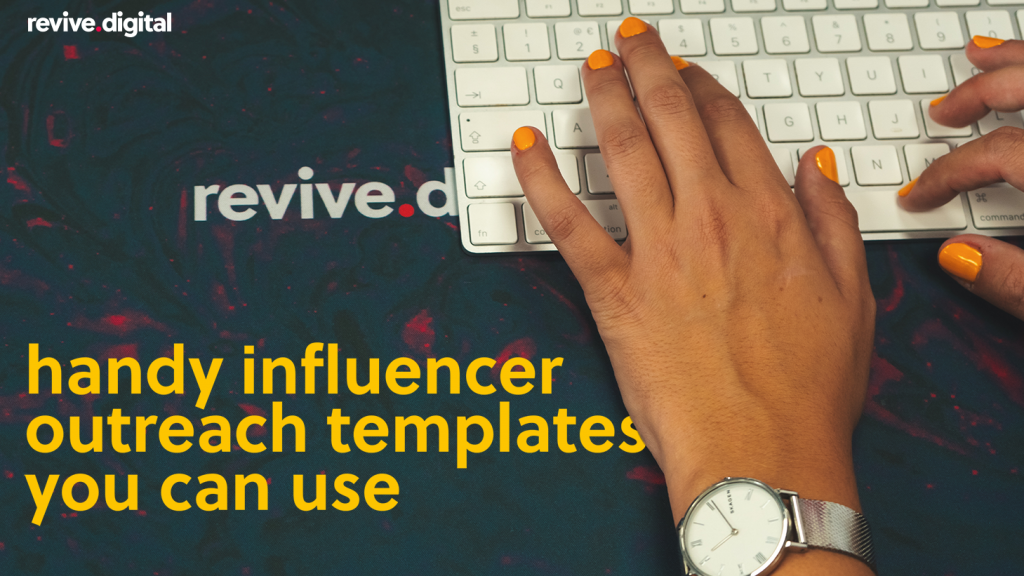 The Free Product Template
Brands often provide influencers with complimentary products and samples in return for the influencers singing their praises to their followers. Here's a smooth way of getting in touch and offering free samples.
Hi [name],
My name is [your name] from [company name]. Myself and my colleagues really enjoy your [relevant content].
I'm reaching out to you because [company name] have a product that we believe you and your audience will love. Would you be willing to test and review the product?
I can provide some free samples for you to review and to give away to your audience.
Please let me know if you're interested in a collaboration.
Thank you very much for your time.
[Your name]
The "Let's Start a Relationship" Template
Many brands already have a list of influencers that they may like to collaborate with. If you have some influencers in mind, then you'll want to send an open-end email to find out their availability and how much they charge.
Hi [name],
My name is [your name] from [company name]. Myself and my colleagues have been following your blog for a number of years.
Your recent post [blog post title] resonated with me for a number of reasons. I thought it was something our audience would appreciate, so I shared it on our company's social media accounts.
I am getting in touch to discuss the blog post further and to see if we can collaborate on something similar together.
If you're interested then we could set up a phone call next week to discuss a collaboration that would resonate and bring value to both of our audiences.
I look forward to hearing from you soon.
Best,
[Your name]
The Affiliate Marketing Template
This influencer outreach approach can be effective in certain instances. But, it should always be used with some caution. Affiliate marketing programs offer influencers commission based on the new business they refer to you.
Majority of the time, influencers prefer upfront payments when it comes to collaboration projects. However, if your brand aligns really well with an influencer and their audience, then an affiliate marketing program could be remarkably effective.
Hi [name],
I'm [your name] from [company name], we're a Southend-on-Sea based alternative clothing brand specialising in vegan products. We really love your personal brand and style and enjoy following you on your @ElizabethWearsPink Instagram account. 
I'm reaching out because we believe you would be a great ambassador for our brand and clothing. 
Would you be interested in collaborating with us and coming on board as one of our affiliate partners?
We would love to gift you a number of pieces to wear, style and share with your followers if you think it's a good fit for any upcoming posts you have planned. 
We are also able to supply you with an affiliate code so you can earn some money just from your influence!
I would love to speak further to see if you are interested.
Please feel free to reach out to me on 079423196789 or by replying to this email.
I very much look forward to speaking with you soon.
Best regards,
[Your name]
The Follow-Up Template
Sometimes it will take more than a single email to get an influencers attention. While you don't want to annoy anyone, it's always worth sending a follow-up email to trigger a response. Emails can get overlooked, especially when you have an inbox as full as an influencers.
Hi [name],
I'm [your name] from [your company]. I sent you an email last week about [project/opportunity] that I think we should collaborate on. I come across your social media channels on a regular basis and really enjoy the content you post. 
I thought you would be interested in collaborating on this project because [reasons]. I'd love to get your opinion on this project and find a way of making it beneficial to both of us.
Let me know if you're interested in this opportunity. It would be great to arrange a phone call so we can discuss this further.
I very much look forward to hearing back from you soon!
Thanks,
[Name]
The Template You Should Always Avoid
Hopefully, the above examples have given some inspiration for when it comes to influencer outreach. Before you hit that all-important send button, take a final look at your email.
If it reminds you of the email template below, then you need to rewrite it.
Hi sir/madam,
I work for [blank], and we have an unmissable opportunity to offer you. We are big fans of your blog and have been following it for a number of years. In fact, we are looking for someone just like you to write content for our website. 
Unfortunately, we are unable to pay you but just think of the all the exposure you would get!
Spots are filling up, so please let me know if you're interested as soon as you possibly can.
Thanks,
It goes without saying, you should always address an influencer by their name unlike this impersonal email that starts with "Hi sir/madam".
It's clear that this email is a template because the [blank] field hasn't been personalised. It's also hard to believe that they're big fans of the blog. It's also quite rude because it demands action from the influencer by suggesting that spots are filling up.
You should avoid emails like this at all costs. Instead, copy one of the above email templates and personalise it to your brand, your offer and the influencer you're pitching to.
The Do's and Dont's of Influencer Marketing (Infographic)
Today, influencer marketing has proven to be a modern and effective strategy for brands looking to vastly increase their brand awareness. However, as with any digital marketing tactic, there's some very important do's and dont's that you should consider before jumping head first into your first campaign.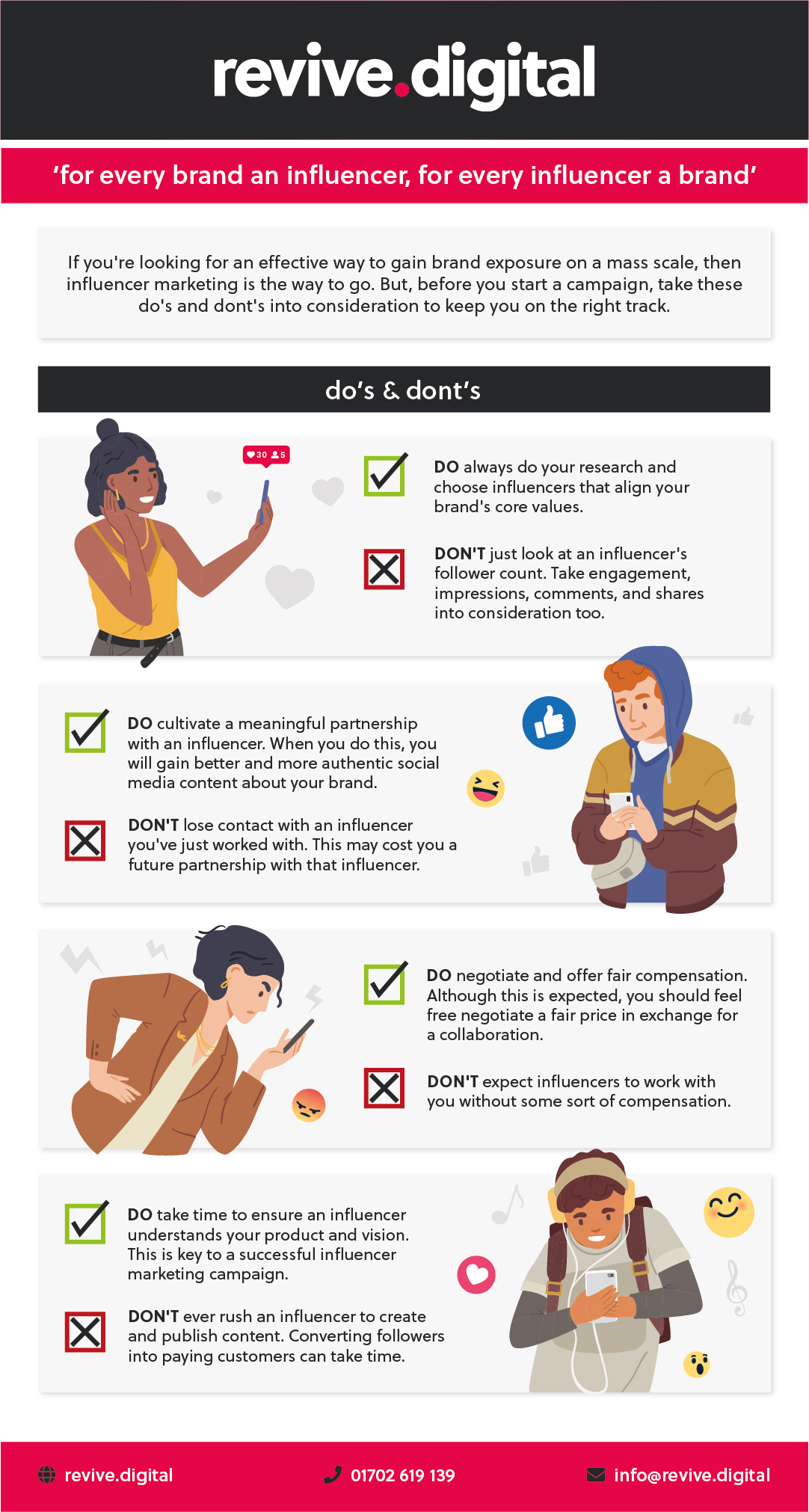 The Future of Influencer Marketing
In 2020, the future of influencer marketing looks extremely promising. It solves many issues that come with conventional marketing methods such as banner blindness and audience segmentation. In many ways, influencer marketing is still rising (and at an incredible rate too!). In fact, it's still new enough to be considered innovative.
15 years ago, influencer marketing didn't really exist. You had very few celebrities promoting products, and even then, all of it was done offline. This was closest we had to influencer marketing at the time.
Those who owned popular websites had no idea of what they were actually worth. Popular Twitter users didn't realise how much power and influencer they had over their followers. And, businesses certainly weren't aware that people like this existed.
But all of this has completely changed over the past few years. Now we have social media influencers with millions of engaged followers. These influencers are now looked at in the same way as celebrities, famous musicians and actors. In fact, Generation Z are a lot more interested in YouTube influencers than they are in superstars.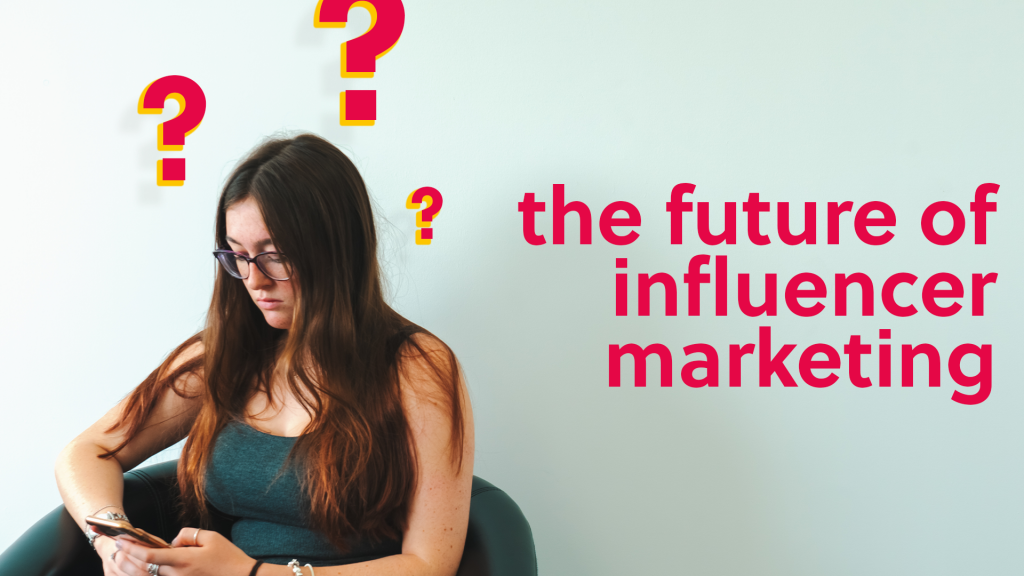 Take Advantage of The Opportunity Before It's Too Late
Integrating influencer marketing into your wider marketing strategy is an opportunity that is too lucrative to miss out on. More user-generated content will allow you to appear more authentic and authoritative whilst promoting your business and social media accounts. In turn, this also opens you up to a previously unreachable audience.
Ultimately, connecting with the right influencers and forging meaningful relationships can help you reposition your business as a disrupter its industry.