06/08/2019
To stay competitive as a business in today's digital world, you must create and maintain a robust online presence. This requires so much more than just having a website and a few social media channels because of how competitive the online environment is. You can guarantee that every single one of your competitors has added digital marketing to their overall marketing arsenal. And, there are many out there that decide to let a digital marketing agency handle their digital marketing because of how much work it takes to get it right.
At Revive.Digital, it's fair to say that we talk about digital marketing a lot. And, we get asked lots of different questions about digital marketing and what it is. So, we made the decision to answer them all in one blog post. You can click on the links below if you would like to skip to a specific question or keep on reading the full article to find out everything there is to know about digital marketing.
1. What is Digital Marketing?
2. A History of Digital Marketing
3. What Are The Different Types of Digital Marketing?
4. What Can Digital Marketing Do for A Business?
5. Is Digital Marketing Effective for All Businesses?
6. How to Define Your Digital Marketing Goals
7. What Are The Most Important Digital Marketing Metrics?
8. What Are The Best Digital Marketing Tools?
9. What is The Future of Digital Marketing?
10. How Can a Digital Marketing Agency Help?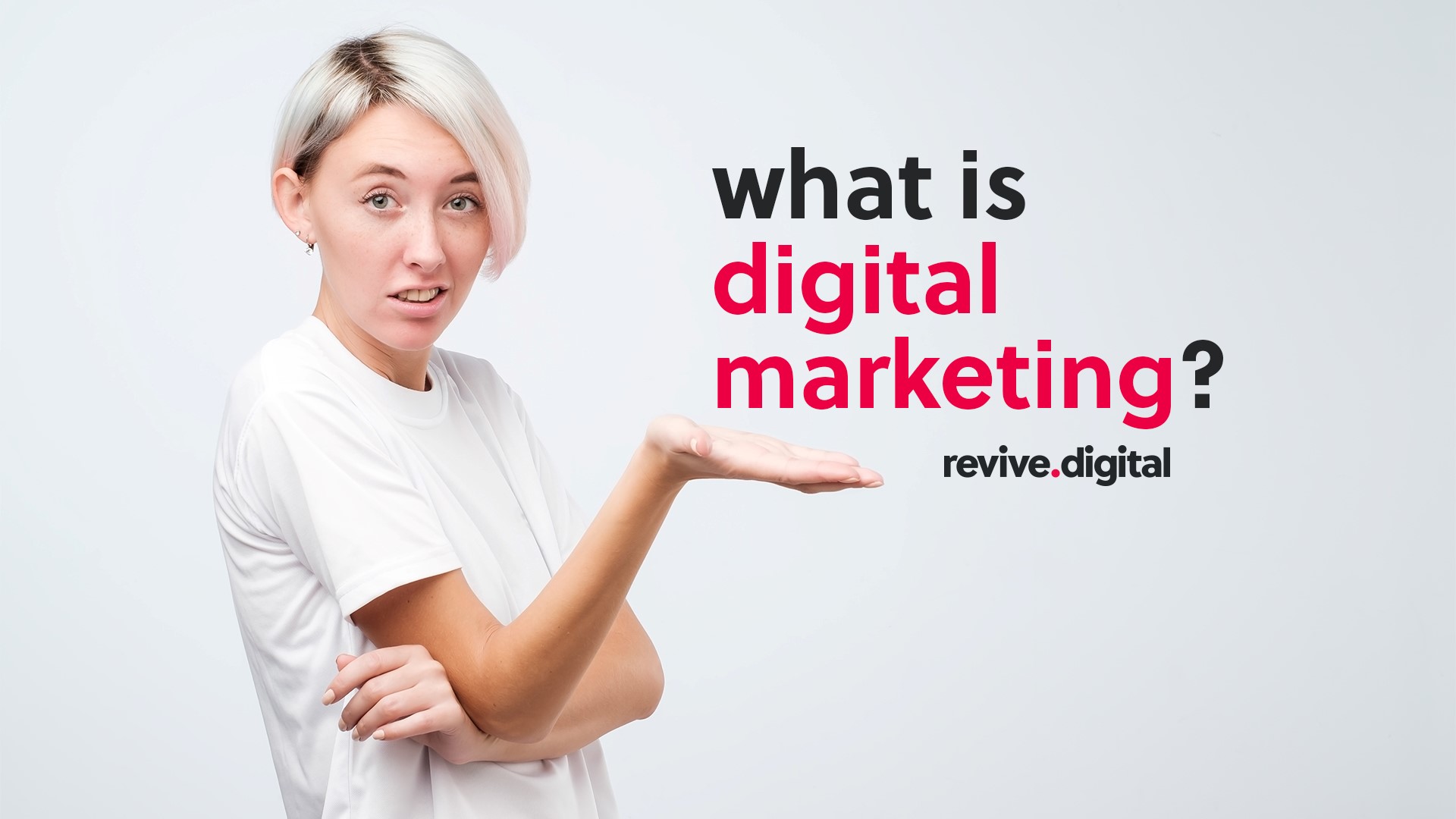 1. What is Digital Marketing?
Digital marketing refers to advertising and promotion that is delivered through a range of digital channels including search engines, social media platforms, mobile applications and email. The key objective of digital marketing is to promote a business, engage with customers and increase sales through the use of various techniques. The main difference between digital marketing and conventional marketing is that digital marketing campaigns are solely executed through digital channels.
2. A History of Digital Marketing
The term digital marketing was first used in the early 1990s. This was when the digital age really started to gain traction following the development of the Web 1.0 platform. This platform allowed users to find information but didn't allow them to share the information over the rest of the internet. At this point in time, marketers and business owners were still unsure of how to develop digital marketing strategies as the internet was still a relatively new platform. However, this didn't last long following the first clickable banners going live in 1993. This marked the beginning of the digital marketing era. 1993 was also the year that Yahoo launched, which also contributed to the transition of the digital era.
During Yahoo's first year, they gained over 1 million website visitors, which prompted other companies to start optimising their websites to appear higher in the search engine results pages. 1998 saw the gamechanger (Google) enter the digital arena. And, by the end of that very same year, Google already had an index of over 60 million webpages.
3. What Are The Different Types of Digital Marketing?
As a business, there are many different types of digital marketing for you to consider. And, sometimes this variety can be overwhelming if you don't fully understand them. There are many businesses out there that only use the ones they understand to promote their products or services. Unfortunately, if you do this, then you are missing out on some of the most powerful and effective forms of digital marketing. It is crucial to understand the different types of digital marketing so that your strategy is as robust as can be together with maximising exposure for your business.
Search Engine Optimisation (SEO)
Search engine optimisation is most probably the first thing that pops into people's heads when they think about the different types of digital marketing. If you are doing SEO correctly, then you attract significant amounts of organic traffic to your business's website. The ultimate goal of SEO is to optimise your content in a way that it makes it appear amongst the first results on a search engine results page.
There are several different methods of SEO that businesses use to rank high on the search engine results page. This can include building a mixture of inbound and outbound links together with optimising content to rank for specific keywords. The hardest thing about SEO is constantly following the changes that search engines make to their algorithms and updating your methods accordingly.
Pay-per-Click (PPC)
Pay-per-click is a form of paid advertising on search engines. It is a method of paying your way to the top of the search engines (otherwise known as the search results). It is called pay-per-click advertising because you are only charged every time a user clicks on one of your adverts. The cost of each advert typically depends on the quality score of a website combined with the competition score or your selected keywords. PPC can work as either a long-term or short-term solution, but there are many businesses out there that use it in the short term to shift certain or seasonal products.
Social Media Marketing (SMM)
Social media marketing is a form of online marketing that involves creating and sharing compelling content on various social media networks. Social media marketing can include a range of activities like posting copy, images, videos and other content that drives engagement amongst users. As well as paid social media advertising.
Content Marketing
This type of digital marketing is quite different to the previous few we have discussed. Content marketing isn't about directly marketing or promote products or services, but about creating digital content that a user will find valuable and resourceful. Content marketing and SEO work together because to improve a website's ranking position, you need content to optimise. A website that has been populated with original and informative content can generate traffic over long periods of time. Google reward websites that contain high-quality content with improved rankings in the search engine results pages.
"Content is the reason search began in the first place." – @leeodden
Influencer Marketing
Influencing marketing involves using influential brand advocates to deliver your business's message to a larger market in an organic way. Rather than marketing directly to a large group of consumers, you instead ask influencers with large social media followings to do it on your behalf.
Influencer marketing has become such a powerful and effective type of digital marketing because people trust what other people have to say about a product or service. And, even though it is one of the newest types of digital marketing, it continues to be a viable solution for businesses that are willing to think outside the box to build trust with their target audience.
Affiliate Marketing
Affiliate marketing is a type of digital marketing whereby an affiliate earns commission for marketing another business's products or services. The affiliate basically receives a piece of profit from each sale they make which are tracked via affiliate links from one website to another.
Email Marketing
Email marketing is the use of email to promote products or services; this is a form of direct mailing.   Email marketing can allow you to create targeted and personalised messages. Email marketing is very cheap, even if you do it through an email marketing agency rather than doing it yourself. Email can accommodate most messages that are sent, and therefore, you can send a wide range of email types.
Digital Audio Advertising
More and more consumers are streaming music from the likes of Spotify and Apple Music opposed to listening to conventional radio. With this comes opportunities for businesses to target consumers with digital audio advertisements within podcasts and playlists, which can be laser targeted to a listener's interests and their location.
Viral Marketing
Viral marketing is a form of digital marketing that can generate interest exceptionally quickly and spread on the internet like a virus. The idea of viral content is for users to share the content, unlike businesses promoting it themselves. Due to the speed of viral marketing, social media networks are the channel of choice.
A viral marketing campaign is extremely simple to execute as well. Simply create a piece of compelling content that is attractive to a target audience and then upload it to social media. From there, all you do is wait for users to start sharing the content.
Mobile Advertising
Mobile advertising spans across all of the types of digital marketing that we have discussed above. Whether its radio ads, social media ads or mobile search ads, every type of digital marketing we have discussed can be optimised for mobile devices. And, as consumers continue to shift towards mobile, more and more businesses are allocating more of their ad budgets for the devices.
4. What Can Digital Marketing Do for A Business?
These days, businesses of all sizes are doing everything they can to keep up with the change of modern technology. Your traditional brick and mortar businesses are either shifting their existing business models to an online one or allocating more of their resources in digital marketing to attract more website visitors and sell more products online. The following reasons are why the use of digital marketing is not just an investment-wise decision but also a highly effective marketing channel that can help grow your business.
Digital marketing is more cost-effective than conventional marketing.
Digital marketing delivers conversions.
Digital marketing builds brand reputation.
Digital marketing earns trust.
Digital marketing entices an audience to take a favourable action.
5. Is Digital Marketing Effective for All Businesses?
Digital marketing can be effective for any business in any industry. It doesn't matter what your business sells; digital marketing still involves identifying your target audience's needs and creating content that they find compelling. However, not all businesses should implement their digital marketing strategies and tactics in the same way.
B2C Digital Marketing
If you run a business that is business-to-consumer (B2C), then your digital marketing goal is likely to be attracting your target audience to your website and convert them into paying customers. For this reason, you are probably less likely to focus on sales leads and more likely on building an accelerated buyer journey.
B2B Digital Marketing
If your company is business-to-business (B2B), then your digital marketing efforts are more likely to centre around generating leads with the goal being for a prospect to speak to a salesperson. For this reason, your digital marketing strategy should focus on attracting and converting the highest quality leads via your website and other supporting digital channels like social media.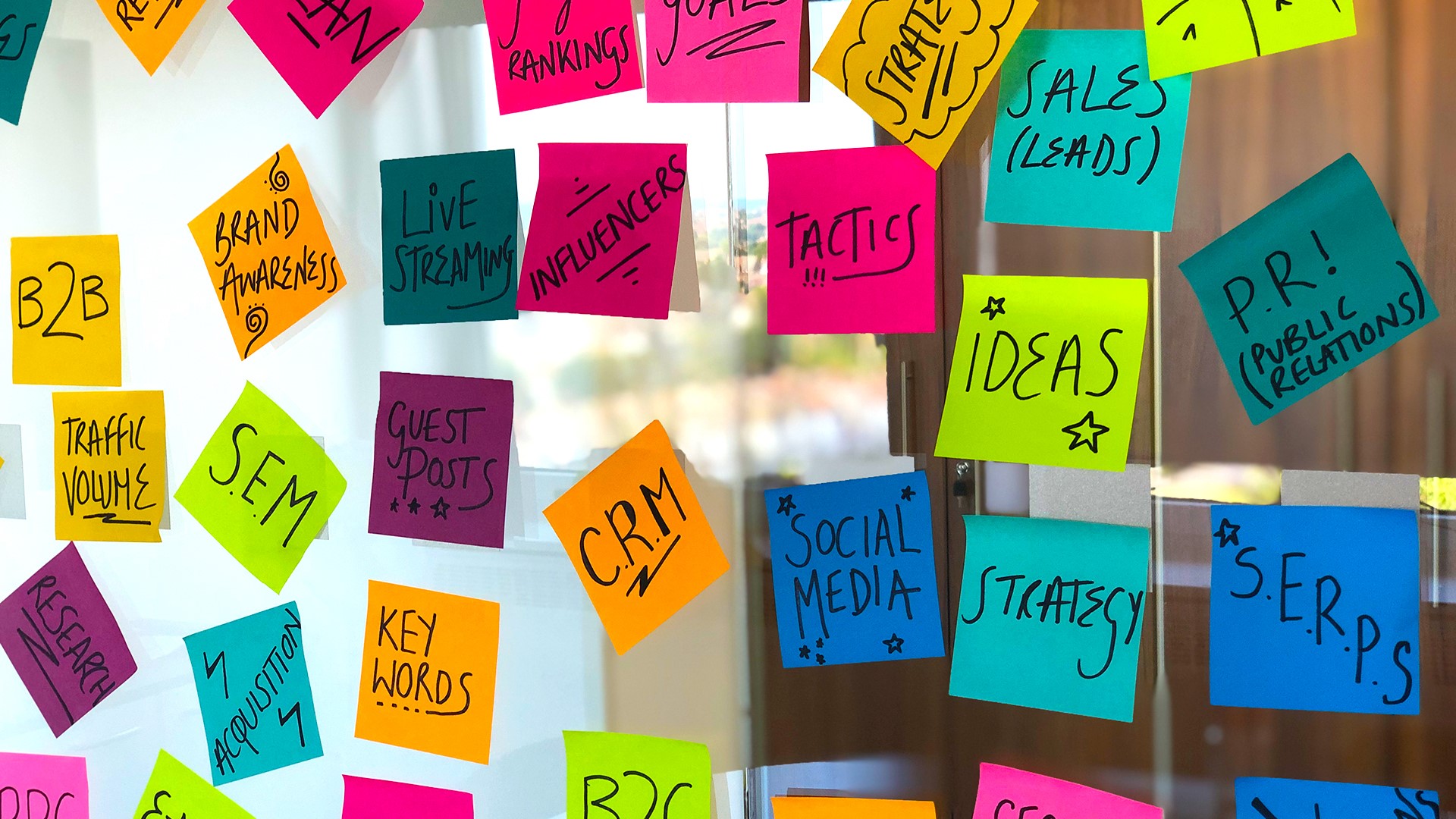 6. How to Define Your Digital Marketing Goals
Measuring your digital marketing success depends on what type of business you are and what your goals are. For example, let's say your goal is to earn 200,000 impressions on your social media channels and drive 5,000 new visitors to the website. Those are two excellent digital marketing goals. When setting your goals, you need to keep a timeframe in mind and be sure to determine how long you have to reach the goals. But, this timeframe will always be dependent on what your goals are.
One of the best ways to identify your digital marketing goals is by conducting a S.M.A.R.T analysis. This will help up clarify ideas, focus efforts, use resources productively, and increase the chances of achieving your digital marketing goals:
Specific: Your goals need to be well-defined and clear to someone who isn't aware of your project or business.
Measurable: You need to know that your goals are measurable and how far away the completion is.
Achievable: The goals that you set yourself must be achievable. They can be ambitious but not unachievable.
Realistic: Your goals should be within the availability of resources, knowledge and time.
Time: A date or time when the goals will be accomplished is needed and must be included as part of your plan to make the goals measurable.
Now that you are more prepared to set your goals before executing a digital marketing campaign, let's take a look at how you should measure your performance.
7. What Are The Most Important Digital Marketing Metrics?
One of the major advantages of digital marketing is that it is easy to obtain data to measure your efforts and performance. So, what are the different types of metrics that you should take into consideration when measuring your digital marketing performance? Let's take a look now.
Cost Per Lead Per Channel
Cost per lead per channel is the amount of money you have spent on a digital marketing channel to generate leads for a particular campaign.
Conversion Rates for Sales
If you sell products online, then you are going to want to track your online transactions (you should already be doing this). After all, as a business owner, you are going to want to know how much money your website is making.
Conversion Rates for Leads
If you don't sell products online but still want to keep an eye on conversions from social media or from a weekly newsletter that you send out, then you can set this up on Google Analytics. Its a good way of knowing how your digital marketing efforts are influencing your sales.
Bounce Rate
The bounce rate refers to how many website visitors stop engaging with your content after one interaction. This interaction could be a webpage view or a social media share.
Social Media Brand Mentions
Customer feedback and any type of post that refers to your business on social media counts as a brand mention. Don't forget about your competitors. Keep an eye on where they're being mentioned too.
Cost Per Click
Cost per click measures how much an advertiser has paid exactly. To measure cost per click, divide the total cost of your campaign by the number of times your ad was clicked. To manually check the cost of your campaign, you can multiply cost per click by the number of clicks you have generated from your campaign.
Digital marketing tools will only help you execute your strategy but having the right stack of tools in place can really help you get ahead of your competitors. Some out there are key to any digital marketing strategy, while others are more specialised, including keyword planners and hashtag identification software. Take your digital marketing strategy to the next level by using the following tools.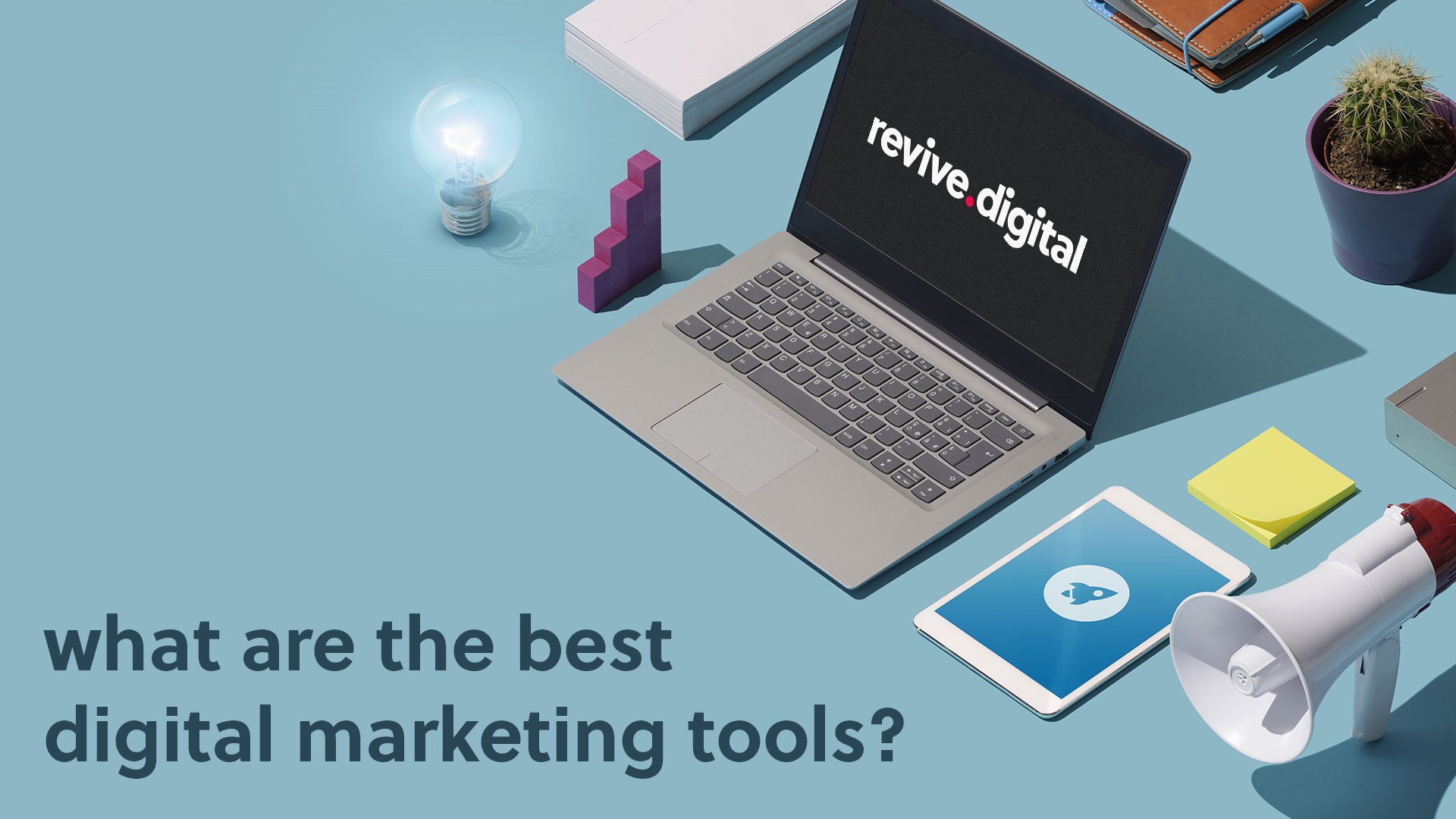 Google Analytics
Google Analytics is a must-have tool if your business has a website. These days it is hard to operate as a digital marketing specialist if you don't have some level of experience using Google Analytics. It can show you how many people are visiting your website, where they are coming from, and which pages they are spending most of their time on.
Google Search Console
Google Search Console lets you monitor and manage your website through a portal that is brimming with useful data and statistics. By having a registered account, Google can send you information about your site issues, errors, or even penalties. It also provides some limited tools to allow you to contact them directly about site issues and feature requests.
Hootsuite
All marketers know Hootsuite as a social media automation and publishing tool. But it also provides users with in-depth analytics so they can see which type of content performs best and on what networks. It's a brilliant digital marketing tool if you are looking for a tool that integrates both social media management and analytics in one place.
Ahrefs
Ahrefs is one of the most powerful SEO and social media tools out there on the market. It is a sophisticated tool that be used for SEO audits, link prospecting and content marketing analysis. It started off as just a backlink tool, but over time have been able to access a big data set so now it is possible to analyse keyword ranking positions, conduct keyword research and much more.
Slack
If you work as part of a digital marketing team, then you need a tool to effectively communicate with each other. And, that's where Slack comes in.  It is a collaboration tool where you and your team can work together to get things done.
cognitiveSEO
cognitiveSEO is a tool that can provide you with the data and information you need for link building campaigns, and it combines data from other SEO tools such as Ahrefs and Moz. The dashboard is easy to understand, especially for those who are experienced in SEO. If you're new to SEO and its companion tools, you'll find the dashboard a little more difficult to understand.
Trello
Trello is a visual collaboration and project management tool that allows you organise and list out tasks. If you use Trello to manage a team and their tasks, then it's great because you can view what's being worked on, who's working on what, and where something is in a process.
SEMrush
SEMrush is an all in one tool that offers a range of solutions for PPC, SEO and social media. It works to identify different trends that happen within your market, identifying a variety of keywords, audit your on-page SEO, check rankings and backlinks.
MailChimp
Learning to how to execute email marketing is one of the most important things you can do if you own a business. And a crucial part of making this happen is to choose a reputable email service provider. MailChimp is an email marketing automation service. With its easy to use interface, and forever free plan, MailChimp now has attracted more than 17 million users and counting.
RiteTag
RiteTag helps you discover new hashtags and track the ones you are currently using on your Twitter and Instagram accounts. In addition to showing important hashtag analytics, RiteTag helps you find the best possible hashtags for your copy and images.
9. What is The Future of Digital Marketing?
The digital marketing spectrum changes so much that it is almost impossible to predict what the future of digital marketing may offer in terms of opportunities. But, as a digital marketing agency, we do have some of our own predictions and ideas of where digital marketing is heading.
The Rise of Micro-Influencer Marketing
Influencer marketing has already become a huge industry in the past few years, with top influencers making millions from social media posts. However, this type of digital marketing is still in its infancy and while it offers brands a great return on investment compared to conventional marketing methods; there are still some issues that need to be ironed out. Fake followers is currently the biggest problem that needs to be resolved, and there have been some occurrences where a brand/influencer collaborations have backfired in a big way.
However, as consumers continue to value recommendations over being sold at, micro-influencers are set to become more invested in by businesses. Their power will be measured by their personal relationships with each of their followers and not by how many they have.
Social Media Takes Over
You might think that social media has already taken over the world, but as the saying goes – "You ain't seen anything yet". Social media will continue to become integrated with both online and services and make its presence known in every aspect of our lives.
In an episode of the Netflix series Black Mirror, social media spills out into reality as citizens rate their interactions with others and are awarded better social status on their overall rating. Science fiction, yes, but the future might not be as far away as we think. Most of the applications on our mobile devices are already sharing personal data with social media networks, and its now become commonplace for recruiters to screen social media profile before they interview candidates.
So, what exactly does this mean in terms of digital marketing? A deeper understanding of each consumer presents the opportunity to offer highly targeted ads and services as algorithms grow increasingly sophisticated on social media.
Voice Search
From "Hey Siri" to "Hey Google", voice services are taking the world by storm and its easy to understand why. They are great at streamlining shopping experiences with some leading brands using voice search to tailor their services to an individual's shopping requirements. For example, Google's voice assistant can be used to recite a user's previous Domino's Pizza order to speed up and automate the ordering process. It's no wonder that marketers are predicting that a large part of digital marketing will be dominated by voice search, and it's important that businesses recognise how important it will be in the future.
10. How Can a Digital Marketing Agency Help?
As digital marketing revolves entirely around your business's online presence, a digital marketing agency will work extensively on developing your online hub across a multitude of different channels.
A skilled digital marketing agency will position your business as a market leader by creating compelling content that will help establish your brand authority online. As true experts, the team at an agency will plan and execute the most effective digital marketing strategies in order to generate the best possible organic search ranking for your business's website.
They will create and implement an expert social media marketing and community management strategy that deliver better results beyond anything conventional marketing could deliver. Social media marketing and community management, when done well, will be focused on the context of the channel and yet fit into the overall digital marketing strategy.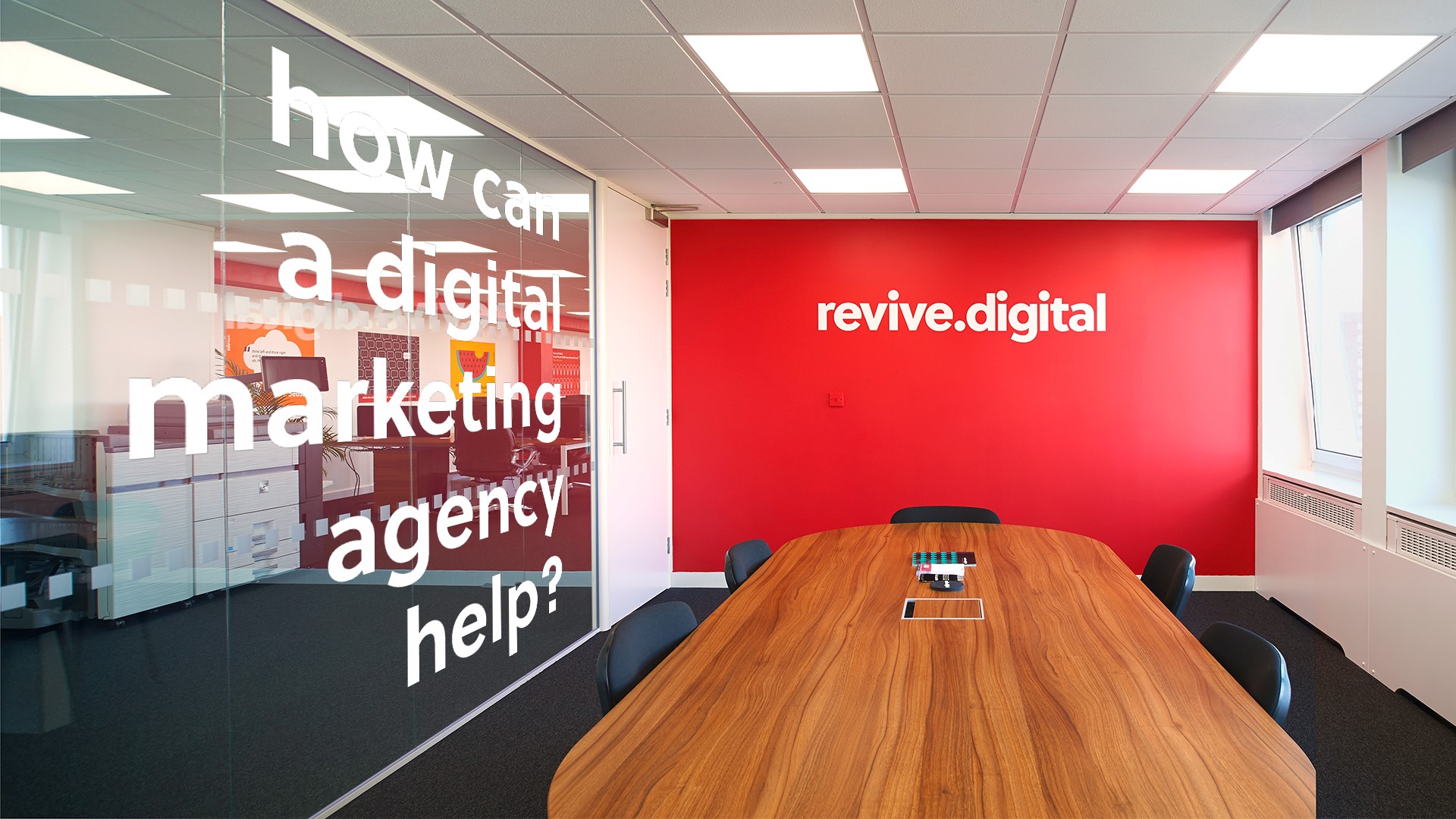 If you would like to find out how a digital marketing agency can help you, then please get in touch with our knowledgeable team. Call us on 01702 619 139 or visit our contact page today!