22/12/2020
We're all familiar with Aldi, right? They're a German-owned supermarket chain with over 10,000 stores and a huge line of their own food items and beverages. But they also stock a number of alcohol products that resemble some well-known brands. Their shelves include a gin called Haysmith's and a spiced rum that has a pirate ship on the label (Hmm, we wonder what Norman Collins AKA Sailor Jerry would have to say about that!).
So, what would you think if they started selling their own brand of craft beer called "Anti-Establishment IPA"?. Yes, you'd think BrewDog would be pretty peeved about it…
But it didn't backfire on Aldi whatsoever, it evolved into a business collaboration of epic proportion and BrewDog's first-ever exclusive beer for a supermarket and all thanks to a spat on social media.
It all started on 18th August when a Twitter user posted a photo of a rather familiar-looking beer….
BrewDog fans instantly noticed that Aldi had been selling an IPA and took to social media to discuss it with one saying, "The name of Aldi's take on BrewDog Punk IPA is legendary!".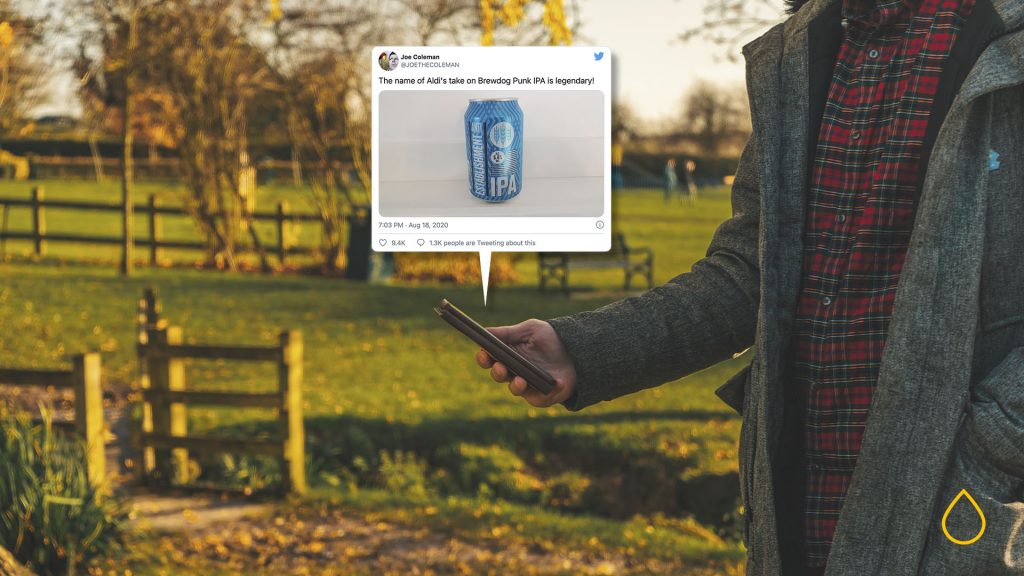 YALDI IPA to ALD IPA
In response to the tweet, co-founder of BrewDog, James Watt, posted on his own Twitter account saying, "I wonder what Aldi would call Elvis Juice?" 
Shortly afterwards, this was followed up with a hilarious announcement that a new BrewDog beer would be coming soon called Yaldi IPA. James wrote "Inspired by ALDI's take on Punk IPA from yesterday, we are making a new beer. YALDI IPA is coming soon! Maybe our friends @AldiUK will even sell it in their stores?"
You can kind of guess where this is going right? The supermarket did respond but not in the way anyone would have guessed.
Aldi replied by letting him know "We would have gone with ALD IPA, send us a crate and we'll talk?"
The following day James responded with an amended design that included the name change as Aldi suggested.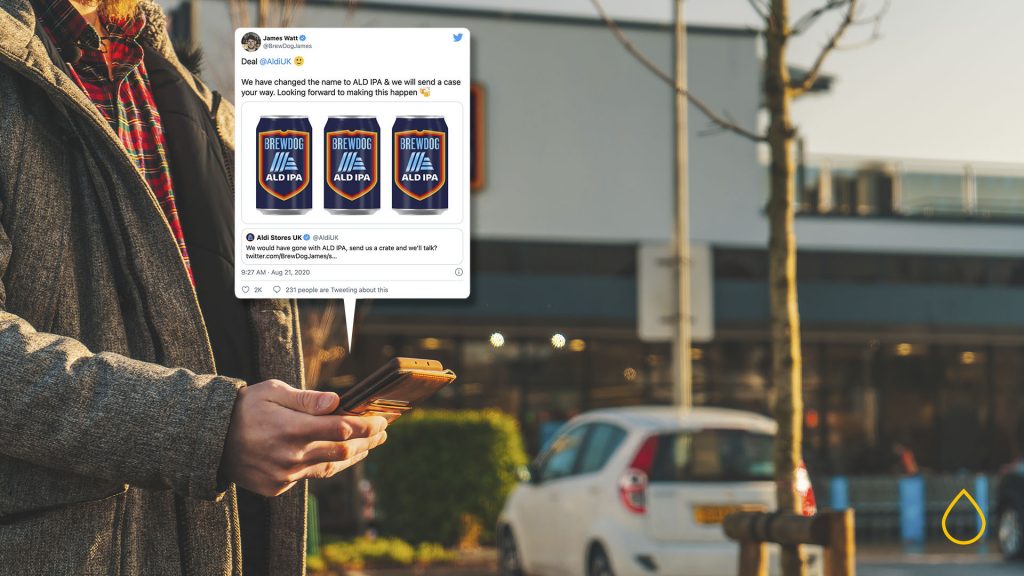 The Plot Thickened
After Aldi responded and BrewDog amended their design, Tesco piped up and suggested that they would like to place ALD IPA in their supermarkets too. James sent out another tweet saying:
"The plot thickens: yesterday we designed this new beer in response to ALDI's take on our flagship Punk IPA. 
@AldiUK have been in touch today wanting to discuss listing our new IPA.
However, @Tesco now want to list ALD IPA in their stores too."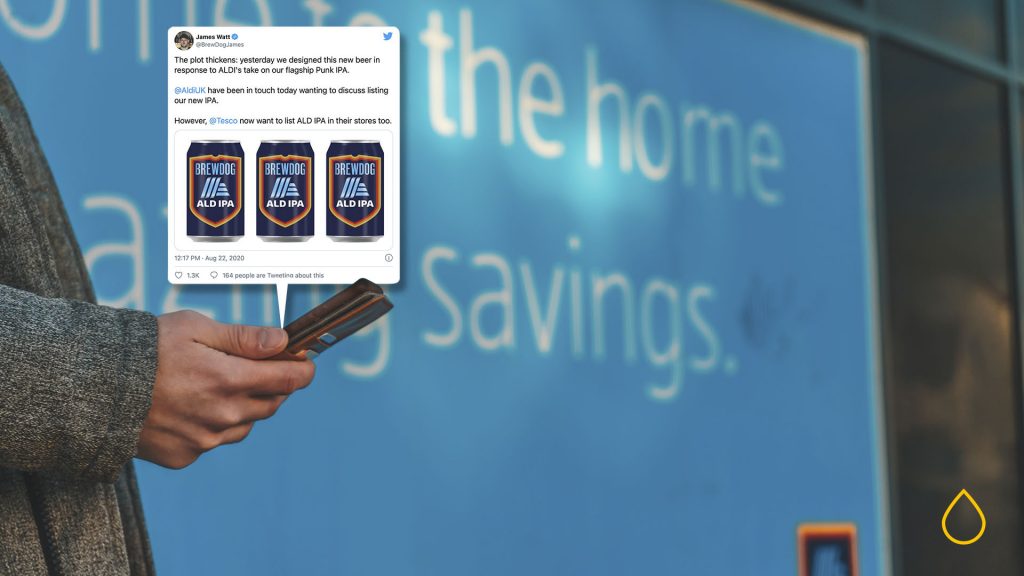 Bringing It Together To Save The Planet
As this rather entertaining "Twitter spat" unfolded during August, BrewDog also announced their plans to be the first international brewery to go carbon negative. We'll go more into detail shortly, but this is what brings it all together and makes it the greatest social media moment of 2020. It didn't just end in a simple business collaboration; it resulted in 2 forces coming together to tackle the biggest threat to us all… climate change.
Following the negative carbon announcement, Aldi tweeted James Watt with an encouraging message that suggested that this collaboration was actually on the cards and not going to sit as a "back and forth". Here's what they said:
"If we can get it through quality control, you may have yourself a deal @BrewDogJames.
Keep an eye out, @BrewDog's ALD IPA should be hitting our shelves soon!
We'll also plant one tree in the @BrewDog forest for every case sold! This is growing into a beautiful friendship!"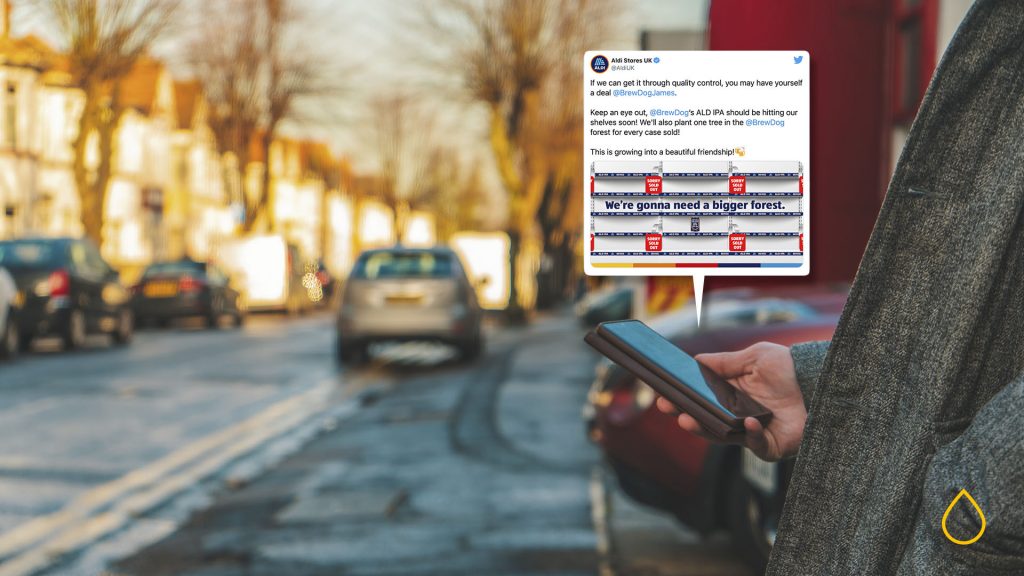 And, of course, James came back to them with a rather appealing offer to and one that would benefit the planet and contribute to BrewDog's ambitious carbon-negative plans:
"Hey @AldiUK – if you list our new beer, ALD IPA (inspired by your take on Punk IPA), we will plant one tree in our new @BrewDog Forest for every single case you sell. Deal?"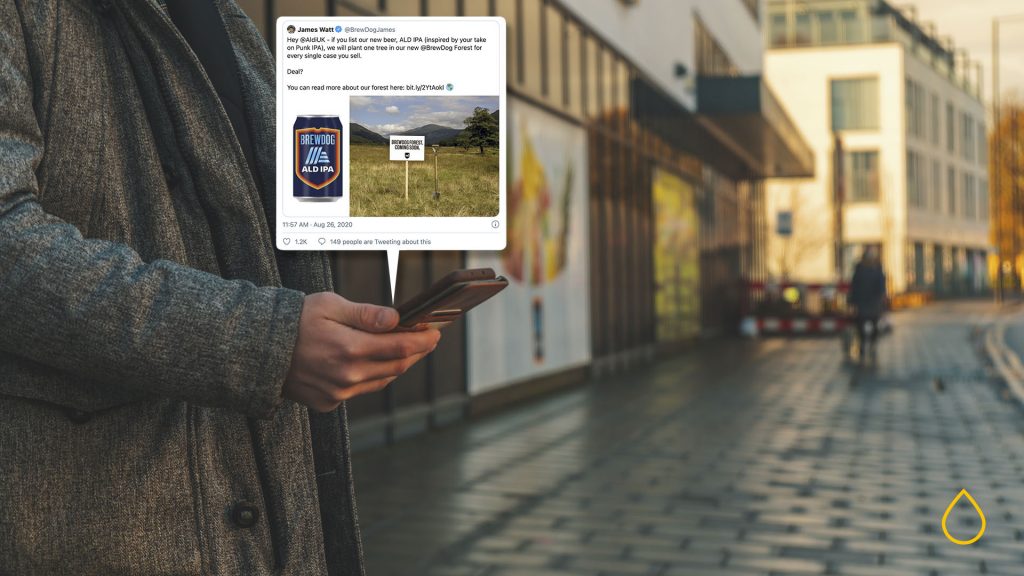 From Tweet to Production
Since the entertaining exchange on Twitter, James Watt confirmed that ALD IPA would go on sale in Aldi from 15th October and for every case sold, 2 trees would be planted in the BrewDog forest.
In other words, "buy one, get one tree"! (We would say that're sorry for that, but we're not).
And, in the blink of an eye, ALD IPA flew off the shelves quicker than it took both the brands to strike this partnership.
To put it into perspective, this partnership took under 2 weeks to fuse, and it was done via Twitter! (Well, maybe some bits had to be discussed in an office but let's forget about that part).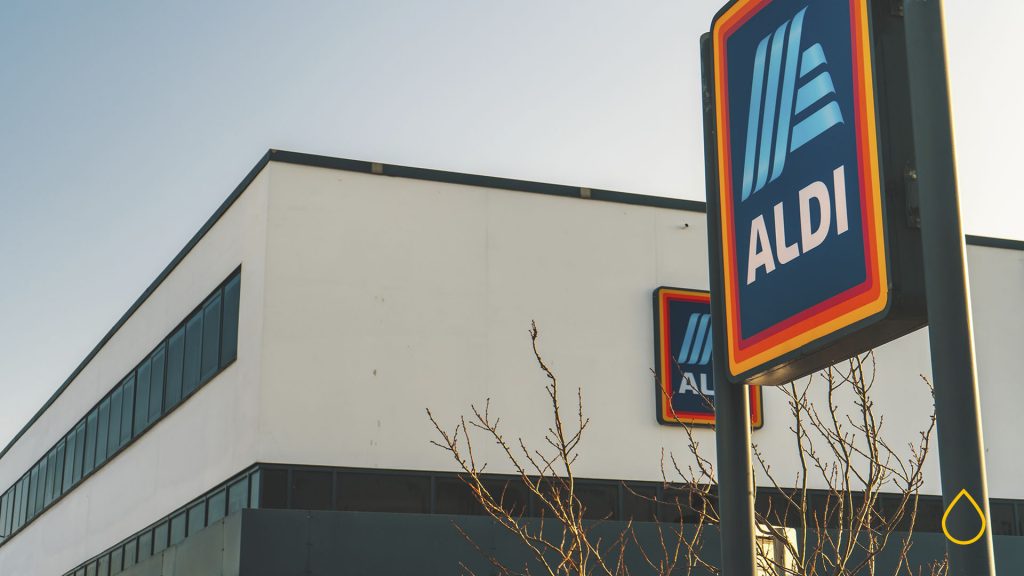 The ALD IPA Branding: Our Comment
As a digital marketing agency that specialises in all things branding, it's fair to say that this collaboration rustled some of our feathers. But one person more than others; our graphic designer.
Here's what Ellise had to say about the brilliantly designed cans –
"From something that started as a spat over social media, the outcome has been a really rewarding process for both companies involved. For them to work together and put aside their differences with the additional positive note being that for every case sold, they would both donate a tree to be planted in the Scottish Highlands, is just fantastic. Perhaps plagiarism can have its benefits?
In regards to design, the original Aldi version of the 'Anti Establishment IPA' was pretty bold. To be this brazen was risky but it definitely caught the right attention! I mean, a lot of designers and artists use other creatives work as inspiration, but this is taking the biscuit a little! It's clearly forgery! 
Then when James Watt, CEO of BrewDog, tweeted their 'Yaldi' can, I thought BrewDog's initial can design was original. The BrewDog 'ALD IPA' can follows the same suit from their redesign, with the shield taking centre stage, instead of the logotype running vertically up the can, how it did before. 
The subtle yet eye-catching brand colours of Aldi appear on the outline of the shield, which is the only Aldi-related branding visible on the can. Not their logo, not tagline, simply just their colours. 'BrewDog' is emblazoned centrally and at the top of the can, which draws your eye to it naturally. It's hard for it not to be the first thing you see."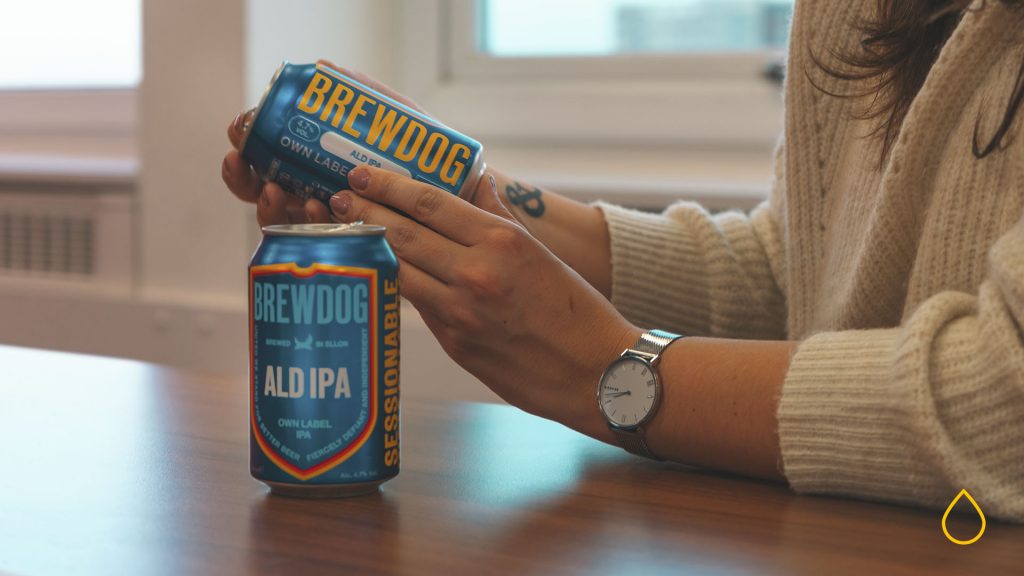 Interested in BrewDog's Rebrand?
So, What Has This Business Collaboration Proven?
Well, above anything else, this really does prove the sheer power of social media. We all know the saying "the best tradition of good ideas come from anywhere at any time" so if this collaboration doesn't prove just that; we don't know what does.
Regrettably, social media is not always a happy place. The trouble is that it can be more anti-social than sociable. But this completely knocked that on its head. Both Aldi and BrewDog used social media for exactly what it's for; being sociable!
BrewDog Tomorrow
After James Watts and Martin Dickie met Sir David Attenborough and watched him deliver a speech on climate change, the pair started digging deeper into the matter.
After realising that they were massively contributing to the existential problem, they issued the following statement –
"If we don't have a planet to brew beer on, then our whole business is pretty pointless.
Therefore, making sure that we, and future generations have a planet to brew beer on needs to be our single biggest focus of BrewDog, forever.
However, change is not happening fast enough. We want to make BrewDog a catalyst for change in our industry and beyond and since the start of this year, with the launch of BrewDog Tomorrow, we have been on a mission to make BrewDog the most sustainable drinks brand on the planet."
Of course, an immensely powerful statement to come from the punk-inspired brewery; but what else would you expect from BrewDog?
But, this time, it was different. They wanted to own the solution and fix their carbon emissions themselves.
The BrewDog Forest 
BrewDog has purchased 2,050 acres of land in the beautiful Scottish Highlands just north of Loch Lomond, which was currently being used as grazing land.
They pledged to create 1,500 acres of broadleaf native woodlands and an ecosystem in conjunction with the Woodland Carbon Code accreditation program. Over the next few years, the carbon killing force is going to plant over a million trees to tackle climate change head-on.
In addition to the peatland restoration and creation of the BrewDog Forest, they're also going to create a sustainable campsite at the location and run sustainability retreats and workshops for beer lovers and environmentalists alike.
Work on the BrewDog Forest is expected to start in early 2021. But this doesn't mean their actions haven't already had a positive effect on the planet. If anything, they're only just getting started by the looks of it.
F**k You C02: BrewDog is Now Carbon Negative
Through £30m of green investments, BrewDog now removes twice as much carbon from the air than it emits meaning they've become the world's first carbon-negative international brewery. Not bad for a company that started selling beer at local Scottish markets and out the back of a van right?
They have a number of green infrastructure projects underway including:
Their UK bars and brewery in Ellon are now powered by wind.
Turning their spent grain into green gas to power their brewery.
Building local brewing sites in the UK, EU, US and Australia to significantly reduce the number of miles that its beer has to travel to reach consumers.
They're electrifying their fleet of vehicles.
Other initiatives from BrewDog cover using by-products from its brewery and reducing waste:
They now use spent spelt to make dog biscuits (Yes, you did read that correctly).
All of the fruit they use in their Overworks Sour Beers is surplus fruit that would otherwise be wasted.
Due to print-ready processes, BrewDog say that almost 1 billion cans never get used by the brewing industry every year and that they have 1 million branded cans themselves. So, they've started repurposing their wasted cans into their flagship Punk IPA beers.
They've started making zero waste vodka with waste beer.
But their initiatives don't just stop there. The company has introduced a new employee perk, enabling their 2,000 strong workforce (which are now called the "Carbon-Negative Crew") to calculate their carbon footprint and track it using an app called Pawprint. Pretty cool right?
BrewDog's "Carbon-Negative Crew" will also get to work with Professor Mike Berners-Lee who will give them advice on how to reduce their impact on the planet.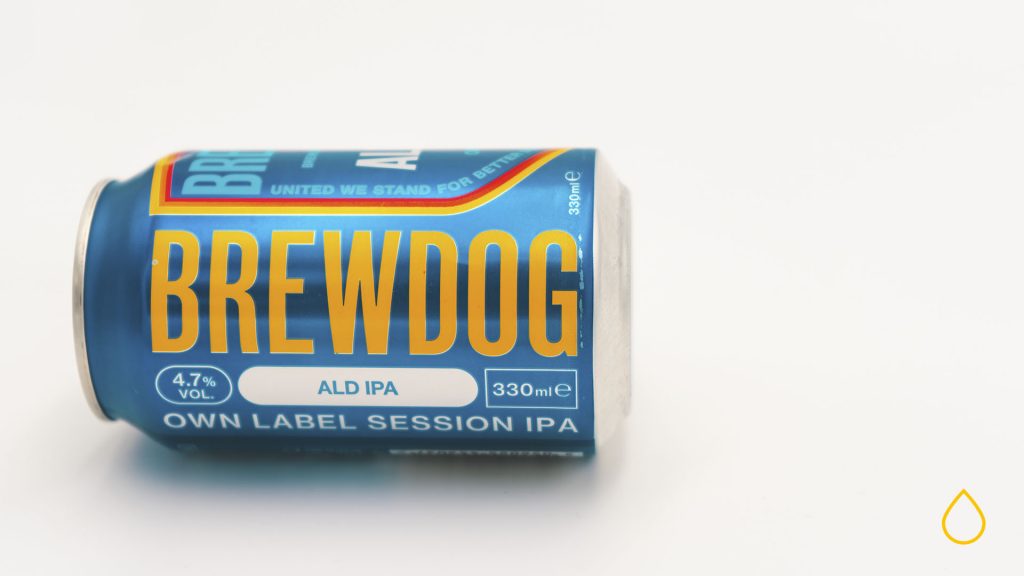 Drink BrewDog, Kill Carbon
One the reasons we've always been interested in BrewDog (apart from their beer) is that they've always thought outside the box and been a community-spirited business. They've always been transparent about the way they do things and now about their environmental impact, which has made them influential in the brewing world.
Their collaboration with Aldi proved that they're willing to "do something different and outlandish". But, more importantly, that they're willing to spin it to benefit our planet.
The message that BrewDog is sending to the rest of the world is that if they say it like it is, everyone else really needs to follow in their footsteps in order to tackle climate change. The business has become more than just a brewery; they've become a force of good determined to make the world a better place.
Ultimately, by drinking BrewDog beer, we're all having a positive impact on the planet. And of course,…we're totally okay with that…