07/05/2019
The phrase "good content is not storytelling. It's telling your story well." has generated a lot of hype amongst digital marketers in the last few years. However, content marketing isn't actually a new form of marketing; we have been using it for a lot longer than the term has existed. What is new with content marketing, though, is the way of looking at content's role in a more strategic, planned out, integrated, well thought out and consumer-focused way.
Unlike other forms of digital marketing, content marketing has a long lasting effect as quality content attracts and retains users. A website that has been populated with good quality content can potentially generate traffic over a long period of time. In addition to that, Google and other search engines reward websites that contain good content with improved rankings in the search engine results pages (SERPS).
Whether you are just starting out with content marketing or its been part of your broader digital marketing strategy for some time, it never hurts to read up about just how valuable it can be. Which is exactly why we have created this blog post. Ready to learn how to master content marketing? Let's go!
1. So, What Exactly is Content Marketing?
2. What is The Difference Between Content Marketing and SEO?
3. What Are the Different Types of Content?
4. How to Create an Effective Content Marketing Strategy
5. Content Marketing Promotion Tactics
6. Measuring Content Marketing ROI
7. Content Marketing Tools
8. Content Marketing Examples
9. When Content Marketing Goes Wrong
10. Content Marketing FAQs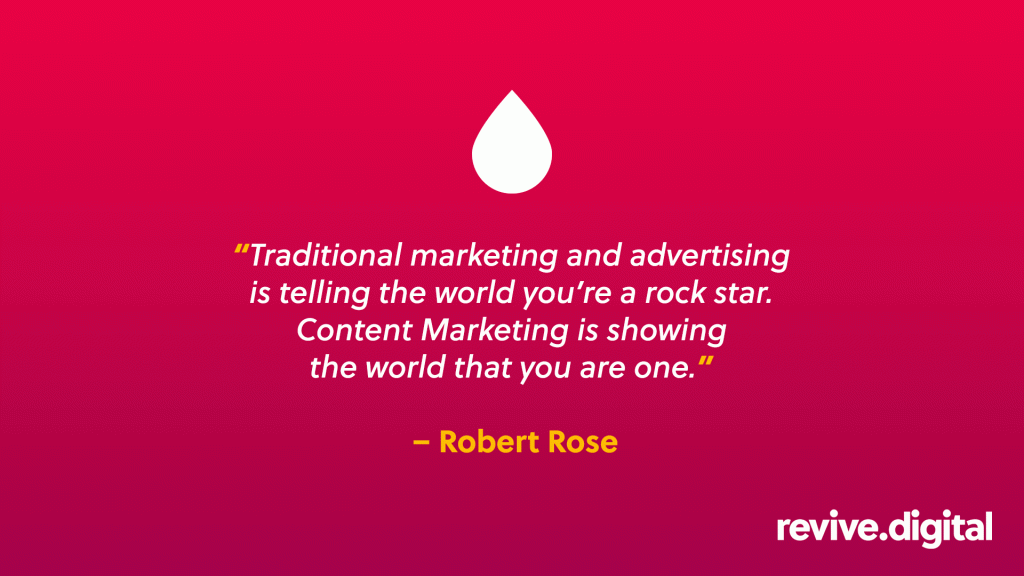 "Traditional marketing and advertising is telling the world you're a rock star. Content Marketing is showing the world that you are one." – Robert Rose
1. So, What Exactly is Content Marketing?
Content marketing is a long-term strategy that primarily focuses on creating valuable and resourceful content to attract a niche audience, and ultimately generate profitable actions. In other words, its all about indirectly marketing a business's products and services by sharing information that will improve the reader's lives.
Content marketing and SEO work in tandem with one another because in order to improve a website's ranking factor you need content to optimise. When a website, ranks in the search engine results pages, you rank for keywords that are relevant to your business in your content. More content ultimately means more keywords which means you have more opportunity to rank in the search engines.
"SEO demands content. Content marketing is content. There is no such thing as SEO without content. You need words, articles, substance, keywords, verbiage. I wince whenever I have to say it, because it's so cliché, but it's true: Content is king." – Neil Patel
2. What is The Difference Between Content Marketing and SEO?
Content Marketing and SEO are 2 of the most important weapons that you have in your digital marketing arsenal. SEO and content marketing are essentially partners in crime. SEO needs content marketing, and content marketing needs SEO. But, there are many people that still don't know the difference between the both. So, let us explain.
SEO
SEO is all about a series of tactics that are created with one thing in mind; increasing your website and it's pages rankings in the search engine results pages. The various search engines rank website's based on 2 factors; authority and relevance. Increasing your relevance means customising your different types of content by making it appeal to a certain audience. Whilst increasing authority means making your website more trustworthy to the readers by creating informative content and earning backlinks.
Content Marketing
Content marketing is all about creating highly valuable and informative content that will improve the lives of the consumers that view it. Its all about indirectly promoting your content on the search engines in order to meeting your broader digital marketing goals. There many different types of content that you can use which we are going to run through in the next chapter of this blog post.
The Relationship
SEO and content marketing share a relationship because they are both used with one goal in mind. And, that's to drive more users to your website. Content marketing is a way of generating an audience, and this audience is needed for SEO.
"The beauty of SEO is that, instead of pushing a marketing message onto folks who don't want to hear what you have to say, you can reverse-engineer the process to discover exactly what people are looking for, create the right content for it, and appear before them at exactly the moment they are looking for it. It's pull vs. push." — Cyrus Shepard
Other Resources: 
3. What Are the Different Types of Content?
When it comes to content marketing, you have to develop a strategy of what the best type of content is for your business to use. However, when it comes down to creating this strategy, it can be quite difficult to decide. This section will discuss just exactly what content there is on the interwebs. If you don't have time to read this entire blog post, then why not make a phone call instead. You can chat to our friendly and highly knowledgeable team to learn about the different types of content that we offer and which ones are best for your overall digital marketing strategy.
Guest Posts
Guest posts can help your business build brand awareness with an audience you haven't tapped into yet and help drive traffic to your website.
Blog Posts
A blog is a section on a website that can be updated on a regular basis. A blog is where you can create exciting and compelling content that demonstrates your expertise in your field.
Videos
If you are to stay competitive in your industry, then you need to grab your target market's attention very quickly. Video content is a brilliant content marketing tactic, as it is visually appealing and can provide a great return on investment when done right.
Infographics
Infographics are a great way for businesses to educate their target audiences by providing them with informative content. This visual content format can help viewers better understand complex data such as statistics.
Social Media Posts
Social media platforms are an extremely powerful tool when it comes to content marketing. It can help businesses reach new audiences and build long-lasting relationships with them. The content that you put out on social media plays an important role in how your business interacts with consumers.
GIFS
GIFS are now a fully accepted piece of web and social media content. They are a great way of catching your target audience's attention and are easily digestible.
Timelapses
Timelapses are basically a technique where a video is sped up. They can allow you to compress many hours of video content into just a couple of seconds.
Memes
Memes, they are quite literally everywhere you turn. This type of content has become extremely popular amongst consumers and have laid their foundation and place in today's popular culture. If you are not familiar with memes, they typically feature viral images along with a caption that says something entertaining.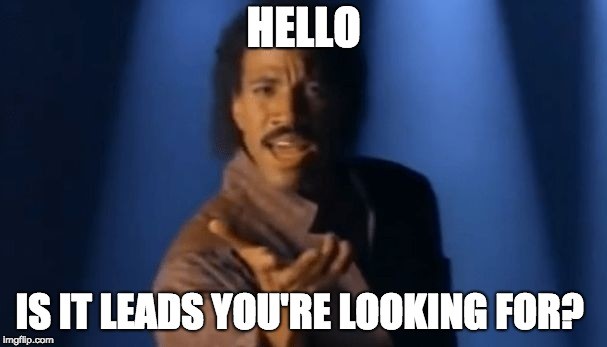 4. How to Create an Effective Content Marketing Strategy
Knowing precisely what your primary goals are will help guide you and your business as you identify and refine your content marketing strategy. For example, a common goal for many businesses is to get consumers to visit your website or blog page and convert them into email subscribers and then ultimately customers. With their email address, you can build relationships with these consumers who are genuinely interested in your content.
A successful content marketing strategy will always have 2 specific things in mind: your brand tone and the target audience. For example, if you are trying to reach a much younger audience, then you are going to want to reach them with social media. However, if your target audience is older consumers, your content strategy may be based on building authority instead. Not sure how to start defining your content marketing strategy? Use the following steps.
Define Your Primary Goals
You need to clearly define what your goals are for your content marketing efforts. It's important to always set these goals before you begin planning your strategy.
Research Your Buyer Persona
To develop a successful content marketing strategy, you need to identify the content's target audience. Which, is also known as buyer persona. This is vital for those who are just starting out in business or are entirely new to the world of digital marketing.
Decide on What Content Management System You Are Going to Use
You need to have a system in place where you can easily manage your content. Here at Revive.Digital we recommend WordPress as a content management system (otherwise known as a CMS).
Conduct a Content Audit
Most people start their content marketing adventure with writing blog posts. However, if you want to push the boat out and try to create other pieces of content, you need to consider which types are best for your overall content marketing strategy.
5. Content Marketing Promotion Tactics
Promoting your content marketing efforts is by no means as fun as actually creating the content itself. But, it is, in fact, a vital part of your content marketing success. However,
there isn't an "all size fits all" solution when it comes to promoting your content, which is why we have compiled this list of tactics which we believe are the most important.
Build Content That Solves a Reader's Problem
One of the fastest and most effective routes to success in the world of business is by solving a problem. Always look for what questions your target market is asking. This can be done by simply making a few searches on Google, look at what they are asking your competitors on social media, or by using a handy tool called Answer The Public, which we will discuss in the next section of this blog post.
Write Long-Form Blog Posts
The content that you create should be long-form as this is how you can showcase your expertise and authority the best. It is also a good way of building trust amongst your target audience. Think about it. More content to read, more time on the website, the more trust that is built.
"Ultimately, you should create long-form content because it will get you more of what you want: more online visibility (social shares, links), more proof of your authority and industry expertise, and more material for altruistic community building and engagement." – Neil Patel
Mention Influencers in Your Content
As you create your pieces of content, link to influencers with your industry niche that can share examples of your work with their own audience base. Including influencers in your content will help get more eyes looking at it. When choosing the influencers to mention it's good to always go big. However, don't forget about micro influencers (10,000 followers or less). Because sometimes it's better to make multiple ripples than it is big waves.
Include Calls-to-Action in Your Content
What is the easiest way to get someone to do something? Yeah, you got it! Ask them. This is exactly the same when it comes to people sharing the content. If you do not explicitly state what you want them to do, then the chances are that they are not going to do it. When it comes to including a CTA, make sure that the message is clear and active, and that the reader will know exactly what you are asking them to do.
6. Measuring Content Marketing ROI
Content marketing is a long-term strategy which is why it can sometimes be difficult to measure its return on investment (ROI). Measuring this success can often depend on the type of business you run and the surrounding industry. However, the obvious indicators for success include website rankings, increased webpage traffic and conversion metrics. So, now let's go through these indicators and what they mean.
Conversions and Sales
Conversions and sales are the ultimate metrics to measure because if you dont, then you are not looking at the big picture. However, because of the long-burning process of content marketing, it's important to look out for small changes instead of big ones.
Bounce Rate
If your target market arrives on your website, find their target content in a few seconds, and then start the buying process, then your bounce rate will actually be high, but your goal has been achieved because you will have made a sale.
"Successful evaluation of your content strategy depends on a comprehensive overview of all contributing factors. Content, social media and SEO are interdependent. Success can't be measured by any single criteria. To get the big picture, look beyond the hard lines and into the softer science of social signals." – Megan Totka
7. Content Marketing Tools
In the last few years, there has been significant growth in the number of content marketing tools that are available to those who specialise in content creation. Many of these tools have actually existed a lot longer than content marketing became a digital marketing strategy and were known as general internet marketing tools. Here are Revive.Digital's top five content marketing tools.
SEMrush is a marketing tool that sells online visibility and marketing analytics subscriptions. It has been recognised as the best SEO suite according to the US Search Awards 2018. They offer everything from SEO, Advertising to Reporting & Management.
Cognitive SEO offers a tool to increase traffic for SEO professionals, digital marketing agencies, SMB or brands. Providing insights into a business and it will monitor the evolution of the site and provides the best in class digital marketing strategy analysis.
Google Trends is a search trends feature that will analyse how frequently a given search term is entered into Google's search engine — providing the site's total search volume over a selected time period. This can be a search across various countries and can be translated into different languages.
Buzzsumo is a research and monitoring tool that will find content that is most shared on different social media platforms. Buzzsumo allows you to set up alerts based on keywords, brand name, links, author name or domain.  It can also analyse, and track competitors based on their content.
Answer The Public is a search query data visualisation tool, that fetches and maps keyword suggestions or predictions that you can see when you perform a Google Search. This will then create a report or presentation or even export the data to a.CSV file in a spreadsheet
8. Content Marketing Examples
Everyone knows that in today's world of marketing, content is king. But, if you would like to stand out from your competitors, then you are going to need to create content that grabs your target audience's attention. And, sometimes this is easier said than done. That's why we have included this section so we can showcase some of the best content marketing examples in recent times.
"When we create something, we think, 'Will our customers thank us for this?' I think it's important for all of us to be thinking about whatever marketing we're creating; is it really useful to our customers? Will they thank us for it? I think if you think of things through that lens, it just clarifies what you're doing in such a simple, elegant way." – Ann Handley
Share a Coke by Coca-Cola
For years Coca-Cola has been successfully implementing marketing campaigns that trigger an emotional connection with their broad audience base. But, the campaign we are going to take a look at is completely something else.
The Share a Coke campaign gave quite literally everyone the opportunity to personalise their drink. Individuals could customise their own Coca-Cola bottle with their own name or look out for family or friends name in shops that sold Coca-Cola. The campaign quickly went viral as consumers started since pictures of the customised bottles online. This specific campaign touched base with something that no other drinks company had done before; customisation.
Coca-Cola followed up the Share a Coke campaign with a social media campaign that showed friends and family getting together and sharing a bottle of Coke with their names on the bottles. This helped the Coca-Cola brand go beyond just promoting the value of their product but show how the product can help family and friends come together and socialise over a personalised soft drink.
Game of Thrones Video by Hootsuite
In this campaign, the social media management company recreated the title sequence from the hit television show, Game of Thrones. However, instead of featuring the different kingdoms from the show, they replaced them with various social media platforms. And, then at the end of the short video, the Hootsuite logo is shown connecting all of the social media platforms together.
This is without a doubt one of the best content marketing examples using video that there is. Its attention grabbing with fun and engaging content, but the video goes far beyond just catching user's attention. What video did was help Hootsuite create an emotional connection with viewers while positioning itself as a product for businesses.
9. When Content Marketing Goes Wrong
In the previous section, we discussed 2 examples of content marketing that quite literally nailed it in one. But, now we are going to show you just how bad it can go if you do not think about the content that you are putting out there. And, to do so, we are going to use Southern Rail as an example (Sorry, not sorry).
Southern Rail – Lets Strike Back
The company asked its customers to confront and challenge a Rail, Maritime and Transport Union (RMT) strike by using Twitter. The company posted a tweet that contained the headline "Let's Strike Back" and asked customers to tell the union how the strikes made them feel together with using the hashtag #SouthernBackOnTrack. Can you see where this is going?
Given that the train operator is known for overcrowding, late and cancelled services, their customers did the exact opposite and used the hashtag to condemn them as a company. Over a very short amount of time, Southern Rail lost complete control of the campaign with their customers and the general creating their own hashtags such as #SouthernFail. And then, the national media picked up the campaign which generated further negative headlines and public comments for the company.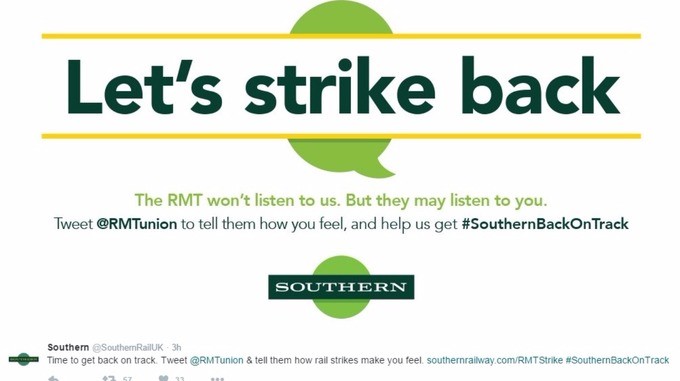 10. Content Marketing FAQs
Well, we have almost reached the end of our guide. But, before we walk off into the digital sunset lets answer some frequently asked questions about content marketing. Because, you know, we're nice like that.
What Is the Difference Between SEO and Content Marketing?
Inbound marketing is all about creating compelling and valuable experiences that have a long-lasting and positive impact on people and your business. It's a way of attracting users and prospective customers to your website and blog by providing them with relevant and helpful content. It also means that you will be seen as a knowledgeable thought leader in your particular area of expertise.
Inbound marketing isn't like outbound marketing, because your technically not fighting to gain the attention of users and potential customers. By creating content that answers a query that a user has means you can build credibility for your business and digital shop window.
What Are the Common Content Marketing Associated Metrics?
One of the most important things a content marketing specialist can ask themselves is "why am I creating this type of content?". It's extremely important to recognise the fact that the metrics you measure will ultimately depend on the goals you have to set for your content. You should always set objectives before creating a piece of content because they are vital for establishing your framework for measurement. The most common content marketing objectives include lead generation, customer retention and brand awareness. So with that in mind, the metrics you should be measuring are retention rates, engagement rates, costs, leads and sales.
What is Inbound Marketing?
The difference between SEO and content marketing is that SEO is far more technical than content marketing. SEO has a lot to do with website structure, design and user behaviour while content marketing is all about how to get more exposure online with the use of compelling, engaging and resourceful content.
With SEO, you ensure that your website has the correct titles, meta descriptions, URLs, has a quick loading speed to user ease, that images have the right alt tags and loads more. Content marketing is more about what type of content to publish, how to present it in front of users and promote it, so it reaches a target audience to attract and retain them.
Is Content Marketing and Social Media The Same Thing?
These 2 types of digital marketing might be really related, but they are in fact not the same thing. Content marketing encompasses written and visual content that can go on your business's website or a number of other website's if you choose to guest post. But, social media marketing solely takes place on the social media platforms themselves. Think about it this way. Social media marketing is a new avenue of marketing. It might be continuing to take the world by storm, but it still competes with other conventional content channels such as TV, print, radio, together with other types of online marketing and paid advertising.