04/12/2020
'Sand? Seriously? I've got loads already!' said the camel and walked off with the hump.
So, where did our sand seller go wrong? Ultimately the seller didn't address one important question – how do you identify your target audience?
You see, our camel might be partial to a bit of desert vegetation. Or perhaps a flagoon of water would go down a treat;
but trying to sell sand to a camel… ?
It's quite a common approach in the marketing strategy of some companies, though…
"Our camel must like sand because it's in every one of their Instagram selfies."
"Our camel loves sand because they are always talking about the sand between their toes."
"It'll definitely work, because our sand is better than the other traders' sand."
"So, let's sell them some sand. It's our newest audience."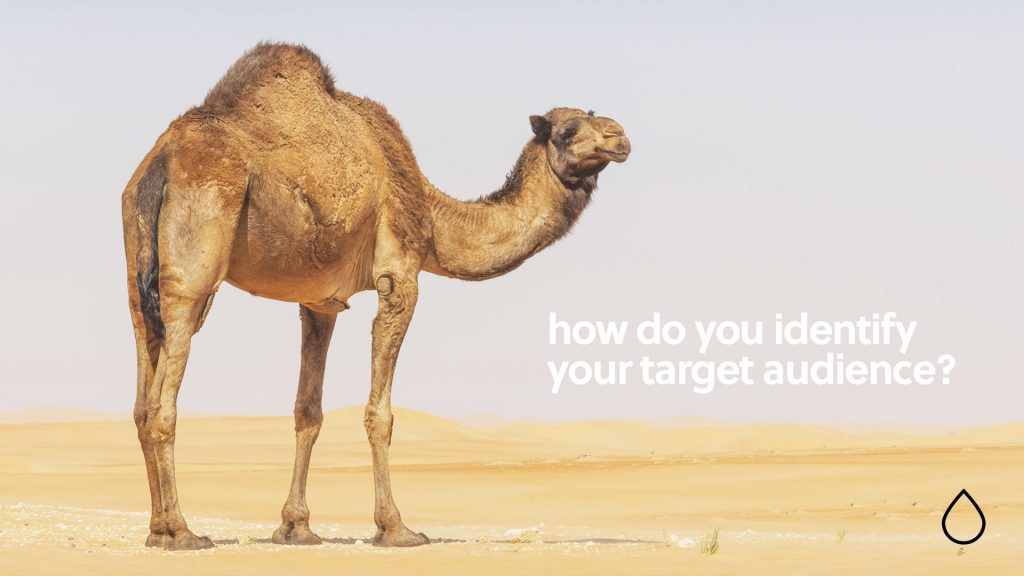 But when you properly define your target audience you deliver relevant benefits and messages that inspire them to engage with and buy from your business.
It gets personal. It gets emotional.
It's not about the sand.
It's about who needs the sand and why they need it.
In this article:
Target Audience vs Target Market vs Buyer Personas

So, How Do You Identify Your Target Audience? Getting the Data

Using Google Analytics to Help Define Your Audience

Helping Define Your Target Audience with Social Media

What are Your Competitors Up To?

How Do You Identify Your Target Audience?
When you delve into your audience you understand the 'what' and the 'why' behind their decisions.
You might also learn that sand is the world's second most used resource and that the world is running out of it. It's used in cement, it's used in computer chips. Knowledge changes things.
So, not only are our sand seller's potential customers a lot greater than the mighty camel, they could probably sell that sand to a new group of people.
Digging deeper into the sand-pit raises even more questions:
What are your audience's pain points?
Does the audience have supply issues? Can we help them?
Can we redirect our smaller sand sales to a new audience that will be more profitable?
Do your buyers need an alternative? Do they want it? Can we supply it?
Where did that camel go? I really need a ride back to the office…
But when you answer them you tap into the motivations of your potential and existing customers to create an affinity that will boost your bottom line.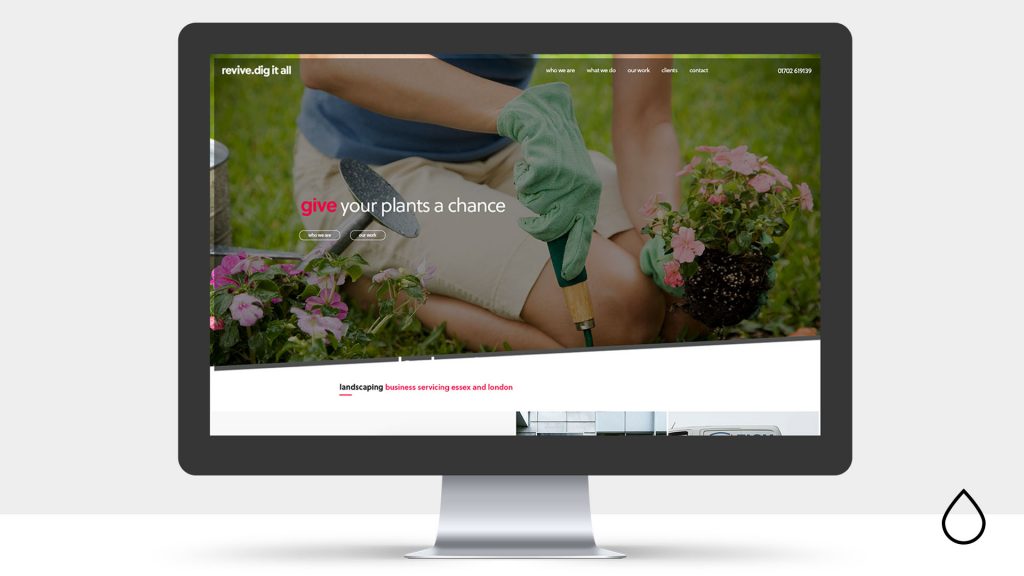 Target Audience vs Target Market vs Buyer Personas
"Don't appeal to everyone, find your target audience and appeal to them"
Someone in the Revive office, 2020
But what's the difference between target audience, target market and a buyer persona? A lot of these expressions are used interchangeably. But they're not quite the same.
Let's say we run a small landscape gardening business, Revive Dig-It-All.
What does 'defining your target audience' mean for our landscaping business?
Target Market
This is the general market your products or services are aimed at. It could be that our target audience is as broad as anyone who has a garden, businesses that need landscaping or building developers who create housing on a grand scale and need new gardens landscaped.
So, we have:
People or businesses with a garden
Housing developers
Those with spare/enough income to support gardening services
It's very general, but it's a start. And let's narrow it further and say our business is physically of the right size that makes homeowners and residential size properties, not grand-scale developers, our target market.
Target Audience
Armed with the info from the points above Revive Dig-It-All can now target people who own homes (or small businesses that need professional landscaping).
We won't target residential rental properties because as they are not owned the people living there are less inclined to want to pay for the upkeep of the property. We already know that most of our clients are property owners.
But it may be that not all homeowners are relevant either.
Those living in flats won't want garden landscaping services. Younger couples buying their first homes probably don't want landscaping either or won't have the spare income to justify the costs.
Marketingville and Internetopolis are more affluent areas, therefore have bigger gardens that may need landscaping. Those living in these areas have the disposable income too.
So now our audience looks a little more refined…
They own houses (but not first-time buyers)
Aged 30+
Have a household income of £70k+
Live in Marketingville and Internetopolis
Likely have a degree or equivalent
Disposable income and power to purchase
By looking at the right data we've created a target audience for Revive Dig-It-All. The important thing to note here is to create an audience that's valid you need to be using data. And there are various demographics that can be used to build your target audience including:
Age (or age bracket)
Gender (beyond male/female)
Educational background
Purchasing power
Social class
Location
Consumption habits (what and where do they buy)
Remember you're looking for patterns in this data to create groups of people who have the same interests, backgrounds or buying behaviours.
Buyer Personas
Just like the film 'Weird Science', imagine you could create your perfect person? In this case it would be your perfect buyer.
That's your buyer persona – a profile of your ideal buyer.
And in reality, there'll be more than one. Many businesses have three or four buyer personas and give them names to reflect their personality. And don't forget to include their challenges too…
At Revive Dig-It-All we have three personas:
Mr and Mrs Lion
Older 45-65, high level managers or business owners, own more than one property, two/three kids, leads the family, wants to have nice things but doesn't want to get their hands too dirty, wants to be able to show off, combined household income 100k+, lives in Marketingville, degree educated, might want to do small bits in garden but only decorative stuff, doesn't have time to do things so buys in the services,
Mr Hyena or Mrs Hyena
Age 30-45, single or have a partner but not married, successful careers, always on the go, too busy for gardening but want a nice BBQ area for parties, earns 45k+, lives in Internetopolis, flashy, similar minded friends, degree educated or equivalent experience, work-hard play-hard, time is an issue, no family so spare income, gardening too much hassle for them, services are easy come easy go,
Mr and/or Mrs Tortoise
Older 60/65+, probably retired, possibly unable to maintain a garden (even a smaller one) due to physical limitations, spare income, sees gardeners as almost support service not just a paid for service, lives in Marketingville and Internetopolis but also in less affluent areas, purchases are considered, wants to maintain independence,
Now, your buyers aren't stats, they're real (fictions of our data imagination).
But knowing this means you can ask yourself things like what are Mr Tortoises pain points? What services does Mr Hyena put value on?
If Mrs Lion wants to show off her garden, you could target her with your best portfolio pieces in a marketing campaign.
But Mrs Tortoise wants a support service, someone to help her with a garden she can no longer maintain… so you would probably talk about your friendly, reliable gardening team backed up with testimonials. The big Instagram water feature centre-pieces won't cut it here. Mrs Tortoise wants something more… earthy.
And so, Revive Dig-It-All has become customer-centric not product or service based.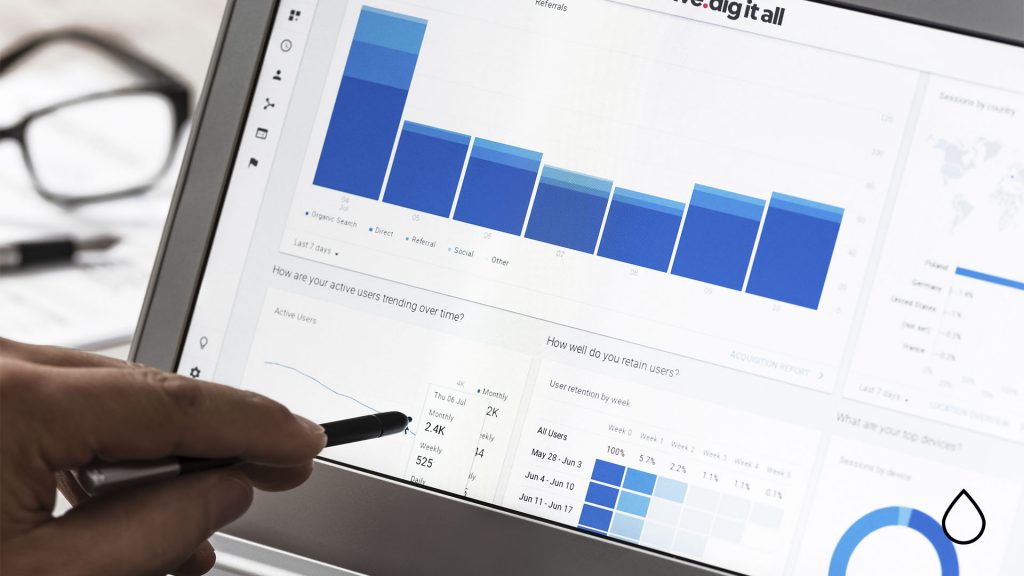 So, How Do You Identify Your Target Audience? Getting the Data
First a note on data…
You can't pass a marketing agency (except Revive.Digital) without hearing the words data-driven.
But data is only useful if it's actionable – that's marketing speak for data you can actually do stuff with.
When it comes to segmenting your audience to find a target audience,  if you can't separate a specific group of people that is different from another (ones that can receive a different marketing message) your segmentation efforts are wasted.
At Revive Dig-It-All the Lions, the Hyenas and the Tortoises are all different groups with actionably different targeting options.
But to get that granular you start by defining your target audience.
Don't You Forget About Me
Revive Dig-It-All tried a marketing agency. But those marketing magpies flew straight out of the tree to look for the newest, shiniest, brightest thing to get at that new audience…
'We've set up social listening posts and formulated market data alongside audience look-a-likes and focus groups, followed by a regression analysis…'
But Bill, the wise head gardener at Revive Dig-It-All, said:
'Let's take a look at our existing customers and see if we can uncover any patterns here first.'
Remember, the people who are already buying from you hold many target audience secrets. They are your audience for a reason. You just need to uncover that reason.
You might even want to conduct regular surveys of your existing customers to help uncover their pain points, likes and dislikes.
At this stage Revive Dig-It-All also listed all the good things about what it does for people's gardens:
We're a friendly team and we've kept every thank you note and Christmas card
Expert knowledge of looking after various species of plant
Chelsea flower show winners
74% of our customers have been with us for longer than 10 years
We know all our customers by their first name
A family business that's been in landscaping longer than anyone in the area
Experienced in residential and business landscaping
Over 2,000 Testimonials and rated 4.8/5 stars on ratemybushtrimmer.com
Use the latest equipment which is quiet, so you won't be disturbed
Clear up after ourselves
Using Google Analytics to Help Identify Your Target Audience
If you're online you need to be using Google Analytics. Here your website insights are broken down to separate out areas like location, age, gender, and interests.
You can look at areas like affinity categories (where else your customers are shopping around the internet) and the devices they use to access the internet.
The great thing about Google Analytics is that it's very visual too, so graphs and charts are fairly easy to understand.
The amount of info can be confusing at first but when it comes to defining your target audience, start broad and refine to get more and more detail.
For example, at Revive Dig-It-All we can see from our Google Analytics audience data that we have four main visitor age groups:
Further refining shows that those under 30 don't tend to buy services with us so we reduce the four age groups to three. Those three groups are more manageable and will be better targeted.
(Maybe later after we've set up our main target audiences we'll look at that 25-34 category and see what they're about. Perhaps they're researching for older family members and there's a new segment we can use.)
Looking at our 45-65 age groups 'other interests', we see they also visit food and drinks sites and look at dinner-party recipes and sites providing catering for events, garden marquees and bouncy castles.
Armed with this and other research we can see they like to entertain, and that the garden is an integral part of a get-together.
They want a garden that they can show off when their friends come visiting.
Then use that information to create marketing campaigns that really resonates with your targets.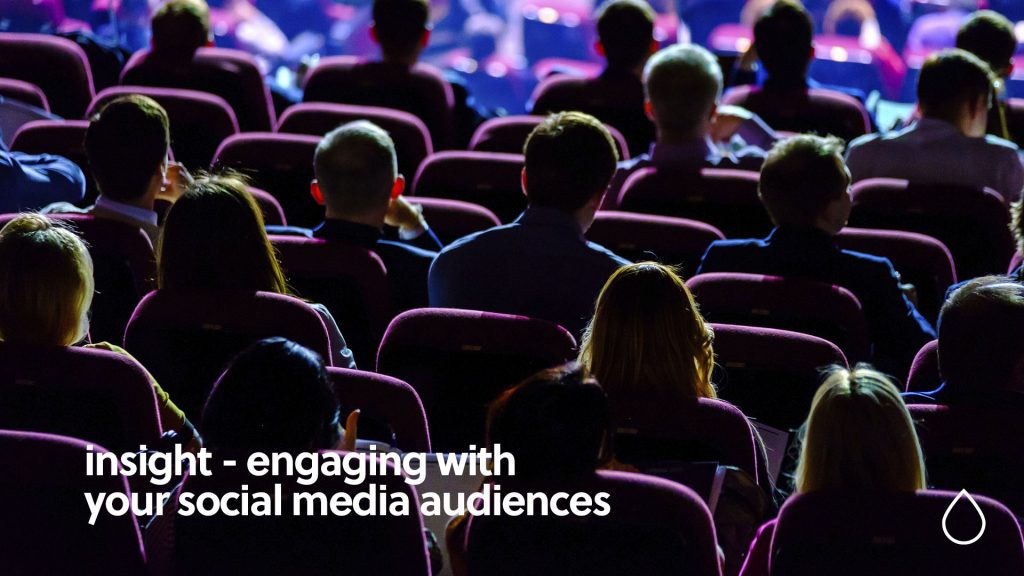 Helping Identify Your Target Audience with Social Media
Your social media accounts are perfect to see where your audience engages with you and what they like too. Social media platforms are extra tools in the customer service strategy of a business. They help you understand what your customers like and don't like. They offer a great opportunity to see feedback and what your customers are thinking.
So, you can begin to create content that targets a specific audience of potential customers.
You can also ask your followers what they want to see from your business.
Using Facebook Insights
The 'people' tab in your dashboard offers a range of demographics data including where your audience is from, and crucially, who they are.
Facebook Insights is similar to Google Analytics and gives you a view on the lifestyles of your followers as well as how they interact with other social media platforms. You can get data about what they buy online too.
Online Content
By looking at the best and worst-performing areas of your site you can get a feel for what your customers want to see. You can create blog posts that your target audience wants to see and entice them with great content in your email marketing campaigns.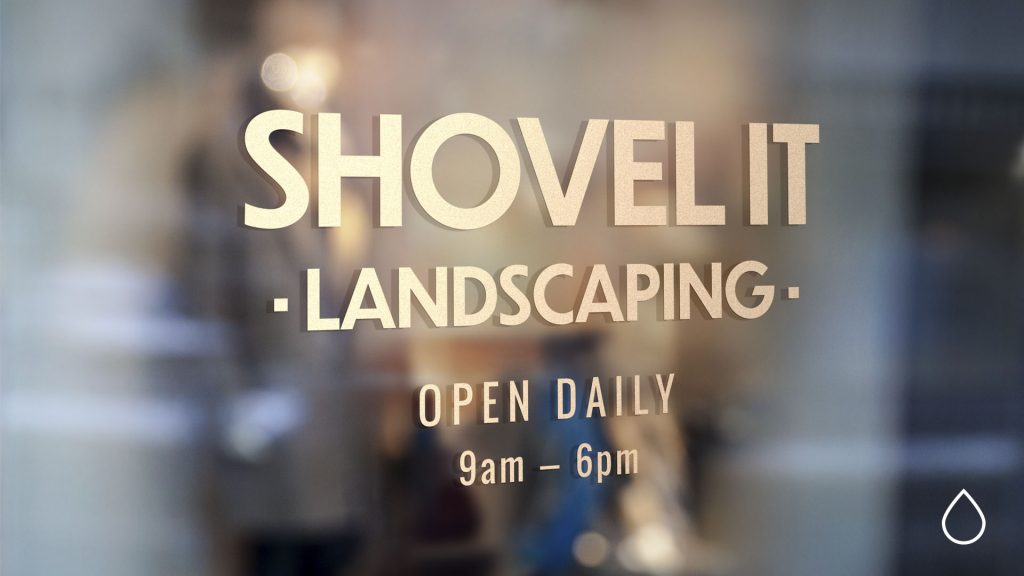 What are Your Competitors Up To?
Now, Revive Dig-It-All aren't the only landscape gardeners on the er… landscape. There are a few others (they can't mow a lawn like Revive, but they are our competitors none-the-less).
We won't know their marketing plans but we can easily sign up to their newsletters or follow them on social media. Note what their audiences are saying, the language they are using and who their followers are following. If it doesn't open doors, it will definitely open windows.
Keep an eye on their website and look for patterns in the site content – they might be an indicator that something is working well or that they feel strongly enough to put money behind it.
How Do You Identify Your Target Audience? Final Thoughts
The point of defining your target audience is to find new customers and market more efficiently to the ones you already have. Even if you only have one persona you will still be better off marketing more efficiently to them than with a general blanketed approach. And remember it's not a one-way street.
Let's review the key points when identifying your target audience and marketing to them:
Research and gather the data
Start broad – you need the foundation. Then get granular
Look for common themes in the research (are they all a certain age, or household demographic?)
Write it all down – in detail
Think about your marketing campaigns and how you can differentiate your target audiences using the data you have collected
Think about what motivates your target audience will at each stage of the journey
Be prepared to change your target audience if you find it doesn't match real life
Revive.Digital does brilliant digital marketing.
Revive Dig-It-All doesn't…. but if you need help with taming a bushy rhododendron, they are absolutely the ones for you.
If you need to grow your website or online presence give Revive.Digital a call. Let us get busy lizzie for you. Give peats a chance.
Ok, that's enough of the gardening puns.
But seriously, do you know your customers as well as you should?