08/12/2016
Since Google announced that normal text ads will soon be disappearing, we've been waiting with bated breath (and furiously rewriting our client's ads). The original switchover was scheduled for October 26th and has since been pushed back until January 31st, giving us time to properly research and optimise our existing AdWords campaigns. Here's what we know…
Optimising for a Mobile World
9 billion search ads are served every day by Google, more and more of which are happening on mobile devices – yet the current ads were designed for desktop. This means that carefully orchestrated campaigns are missing the mark due to formatting, so Google has decided to do something about it.
Google's new text ads are designed to be mobile optimised, offering up to 50% more space for copy. This means BIGGER headlines and extraaaaa characters to really sell your product and services.
The Stats
Out with the old:
Headline: 25 Characters
Display URL: 35 Characters
Description Line 1: 35 Characters
Description Line 2: 35 Characters
In with the new:
Headline: 30 Characters
Headline 2: 30 Characters
2 Subdomains: 15 Characters each
Description: 80 Characters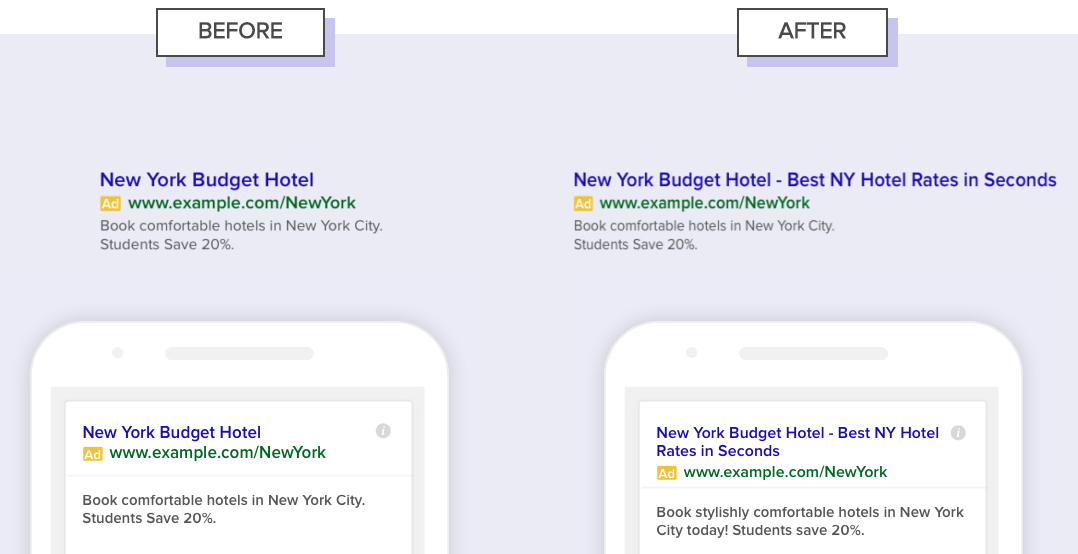 What to Do with Your Google AdWords Now
Test them!
Don't just blindly follow a guide, utilise the extra space with different approaches and see what works best for your AdWords campaign.
Focus on headlines
The headline is the most important part of your ad; if it doesn't initially grab attention, the rest of your ad is redundant. ESPECIALLY now that the new format highlights the headline.
Don't change everything…
Just because it's a new format, that doesn't mean every tried and tested technique won't carry over. If you found something worked well previously, then test it out on the new Google AdWords format before writing it off forever.
There's no need to rush!
With a change like this, there really is no way to predict what will work and won't; so, don't rush to turn off and delete your existing campaign if it's working successfully for you. Instead, research and set up a new campaign optimised for the new format, and wait until the new AdWords campaign is consistently outperforming the previous.
It's not obligatory
Remember, just because you have extra space in the ad doesn't mean you have to use it. If your AdWords campaign is working well as it is, we wouldn't advise blindly inserting a second headline for the sake of using up characters.
The goal is still the same
Don't let your expanded text ads lose their relevance to the user's query – just because the rules have changed, doesn't mean the goal has moved!
Whatever you decide to do with your Google AdWords account this January, remember to run A/B tests. Be brave, you have extra space, try and use it! If you're not sure what to do, check out how we can help here.
Follow us on Facebook for daily advise and industry news!