26/08/2021
You'll find the best email marketing tools available – all 100 of them! We've gone into detail about our favourite 14 and why you should be using them too.
Not got time to watch our video or read our full list? Check out our infographic below!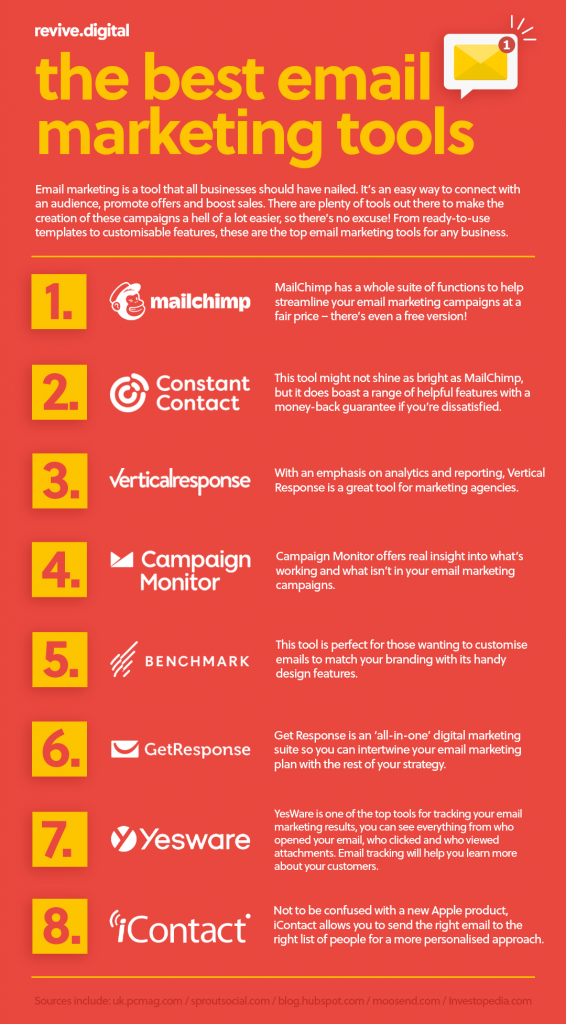 What better way is there to update your customers with news, deals and promotions than with email? Sure, you could give them all a quick call, but who has the time? Email marketing has become one of the most popular ways to contact a customer directly, without actually bothering them. You can update your mailing list with new offers, content posted on your site, feedback and even follow up emails – it's become a great way to bring traffic to your site and enrich a customer's experience.
In the wake of busy social media timelines, your email inbox is a safe haven away from the noise. It's where you go to look at important messages. And with that in mind, this is why email marketing still works and always will. Directed ads on social media can easily be scrolled past, but when you're looking at your inbox, you're less likely to scroll past a 'great deal'. This is why email marketing has become so important. But, to create an effective email marketing strategy, you need the right tools.
The trick of email marketing is in the wording and imagery. It needs to be to the point so that a customer will open it. Then, the design should make them want to scroll. It should look good and link clearly to your site to get some sweet, sweet traffic. There are so many email marketing tools out there with design tools to help you create captivating emails with ease; you won't need a degree in Graphic Design to get it looking fab!
Good email marketing tools help you reach your customers and keep you out of the 'Junk' mailbox. With that in mind, we've compiled a list of the top 100 email marketing tools to use. And before you panic, we're only going into detail about the top 10, with the other 90 as honourable mentions. You'll find out what tools are best for you, what they offer and why we think they're so great.
Top 10 Email Marketing Tools
The winner of our top 100 email marketing tools is MailChimp! Not only is MailChimp so easy to use, but it's fairly priced too. We'll break down why we love it so much. Firstly, the pricing alone is enough to earn it the top spot. For a new business, it offers a free service and even for those looking to grow, it only charges $9.99 (£7.27) a month. For a premium account (the most expensive), it will cost around $299 (£217.43) a month.
Not only will MailChimp let you reach your marketing list directly, but it also offers easy to understand analytics. Everything from average open rate and average click rate, to how many subscribers in total you have. It integrates a smart mailer system, which helps you target your mail contacts with ads, site visitors or even contact those who've abandoned shopping carts online. It's an intelligent system that includes adverts from your social media and Google AdWords campaigns too. The features of this tool also include making reports, that's why it's favoured by digital marketing agencies. The design features allow you to create unique and eye-catching emails for your mailing list, it's functional and so easy to use.
At number two on our list is Constant Contact. Whilst it's hard to beat what MailChimp offer, Constant Contact are a close second! They offer a free trial for their first month, including a money back guarantee in your first month of paying if you're not satisfied with the tool. The tool is mobile friendly, for the businesses on the go, and user reviews preach that it makes communication a lot easier with customers.
Like Mail Chimp, the service includes reporting on analytics and reach. Contacts can be imported into the system in order to not only reach your current mailing list but to help grow it. Both services offer a stock image gallery to create mail campaigns – ideal for smaller businesses who may not have the budget or backlog of stock photos. Both are equally as functional and useful, but very different. The automated functions are more limited on Constant Contact however, with MailChimp scoring the best marks overall, on every front.
Like MailChimp, Vertical Response offers both free and paid plans. Ranging from $11 (£8.01) – $363 (£264.23) per month. Like both the services, it allows you to send targeted emails with advanced reporting and you can test your email before it gets sent out in mass to your mailing list. This tool also utilisers autoresponders for mail, to welcome new subscribers with a customised message, as soon as they sign up. An extra feature allows you to create landing pages that complement your email campaigns. They can stand alone separate from your website and are customisable to suite and match your business. Both large, small and non-profit businesses trust VerticalResponse for their email marketing.
Other than the ability to monitor a campaign (clue's in the name), Campaign Monitor provides businesses with a method to send excellent customisable email campaigns to a full list of clients. This particular tool has a focus on personal experience for the customer. You can create eye-catching emails to go out to customers, as well as creating personal messages and scheduling mail to be delivered at the right time. Many big retail brands send out targeted emails in the later hours of the evening, to catch people who aren't working – as they're more likely to check low priority emails in the evening. With this in mind, Campaign Monitor still offers analytics and other features similar to the others above. Pricing ranges from $9 – $149 per month, making it great for both small and large-scale businesses.
Professing itself as 'Email marketing that won't slow you down' on their website, Benchmark Email focuses on creative design and functionality. Like Campaign Monitor, the features of Benchmark Email are similar to the rest of the marketing tool, but design ease is favoured once more. With its useful email builder, you can design beautiful emails that draw the eye to the message and link to social pages and your website too. There are hundreds of templates available too, so you don't need to be a graphic designer to create a stunning email for your customers.
Benchmark Email charges by the number of subscribers you wish to have on your list. With 1,000 costing $23 (£16.74), 2,500 priced at $35 (£25.48) and finally the option to reach 100,000 for $499 (£363.27) at a monthly rate. It's ideal for smaller businesses, as you can upgrade as your business grows. Also, it's great if you don't have an in-house graphic design team, as you can use the templates which still look brilliant.
GetResponse differs slightly from the other services available, it's not only for email marketing but an 'all-in-one' digital marketing suite. It includes email marketing, landing pages, webinars and marketing automation. Whilst some other tools offer landing pages, GetResponse includes a whole suite of functions. But, let's focus on the email marketing – it's what we're here for after all… Prices range between £11 monthly and £340. You're able to intertwine your email marketing plan with the rest of your strategy, to ensure a smooth process. With marketing tools to help you grow your mailing list, increase conversions and in turn increase audience engagement too – GetResponse is an excellent tool for mid to large-scale businesses.
Yesware is another tool for the avid email marketer. Yes, it allows you to do a whole host of things that other tools allow you to do too, only it has smart email tracking tools equipped. This allows you to not only track email open and reply rates, but how many clicks on links there are, and how many attachments have been opened too. This tool has a focus on improving your selling. It helps you in the process of tracking sales and potential leads created through email marketing. It's a handy tool for B2C businesses, to track the progress of sales through emails. You can then optimise your mail to improve selling and get more conversions.
Not to be confused with an apple product, iContact earns number eight on our list of email marketing tools. This affordable tool allows you to easily create emails for campaigns, and segment-specific client email lists with smart intuitive marketing automation. It also allows you to strategically follow your marketing campaign, with ROI and analytics to monitor and track conversions, clicks etc. With iContact, you'll be able to set up customised workflows that contact the right people, with the right information. You can dive in depth with customer metrics, including their last purchase date, in order to retarget them and turn them into a returning customer. The prices range from $32 (£22.38) a month to the fully comprehensive pack at around $99 (£69.25) per month. This price makes it an ideal for small businesses with a lot of potentials to grow and expand. Not only does it integrate with all of this, but it's design tools allow you to put together some stunning emails for campaigns.
MailerLite is used for creating more than just newsletters. It includes email automation, landing pages and pop up features too (for your website). Again, MailerLite is priced based on your desired subscriber list. With up to 1000 subscribers for free, packages range from $10 (£7), to $140 (£97.93) per month – for larger businesses. It's a perfect way of creating a marketing strategy, looking to bring more traffic to your site, as well as boost conversion rates too. By creating optimum landing pages and pop up features, you can better reach your audience and sway them into signing up to your mailing list – to be contacted in the future. It's a great tool to bring traffic to your website via email marketing.
Finally, at number 10, we have Aweber. Like the other aforementioned tools, it allows you to directly reach the right customers on your mailing list. It includes segmentation, auto replies, reports etc. and offers customer support for the user (that's you). With a free trial, you can try before you buy! There's loads of great resources available to you, to help your streamline your email marketing. It's a service like the others, but with a little extra support. The pricing ranges from $19 (£13.29) a month to around $149 (£104.23) a month, dependent on the package you want for your business.
Whilst this is our top 10 favourites, there are so many other email marketing tools available to you! See our list below for rankings from 11 – 100.
List updated for 2021:
Omnisend is great for reaching specific audiences; it allows you to add email, SMS, push notifications, Facebook Messenger, WhatsApp and more to your automation workflow. This is perfect for those wanting a more customised communication with your audience.  It's very easy to use, offering templates for emails, campaigns and automated workflows. Omnisend has four plans, including a free one.
Moosend allows you to create newsletter campaigns, landing pages and subscription forms. It's very flexible, allowing users to create templates from scratch, use interactive features or use ready-made templates. At an affordable price, it's no surprise that Moosend has become a very popular choice for those wanting to create email marketing campaigns. Prices are based on the amount on your subscriber list, with three different price tiers. The Pro plan starts at $8 per month with up to 200,000 subscribers.

HubSpot makes email marketing easy. You can either personalise your emails by creating a custom template tailored to your brand. Or for something a lot simpler, you can choose from a range of drag-and-drop templates. It's also a tool that loves to personalise to each of your customers. You can have different email versions based on a recipient's device type, country and more. Reporting and the 'smart send' features also make HubSpot a super handy marketing tool. There are three different pricing points with HubSpot as well as a free version!

ActiveCampaign has grown in popularity over the years and is now one of the most favoured of email marketing tools. It allows users to create email automation sequences as well as manage sales, live chat and email marketing with an in-built CRM system. Starting at $9 a month, ActiveCampaign is a great choice for all-sized businesses.
Runners Up: 15 – 100
And that's our list! Congratulations if you made it to the end, you're a real star for reading the whole thing. If you're as lost about email marketing tools as you were before, we've got the knowledge and tools to help create award-winning, email marketing campaigns. If you need some assistance, you know exactly where to find us. Drop us a message, or give us a call.
Best email marketing tools for 2018: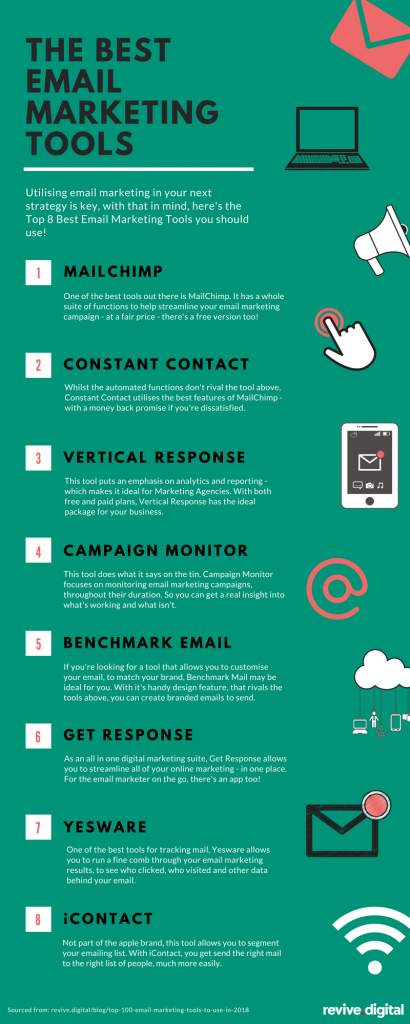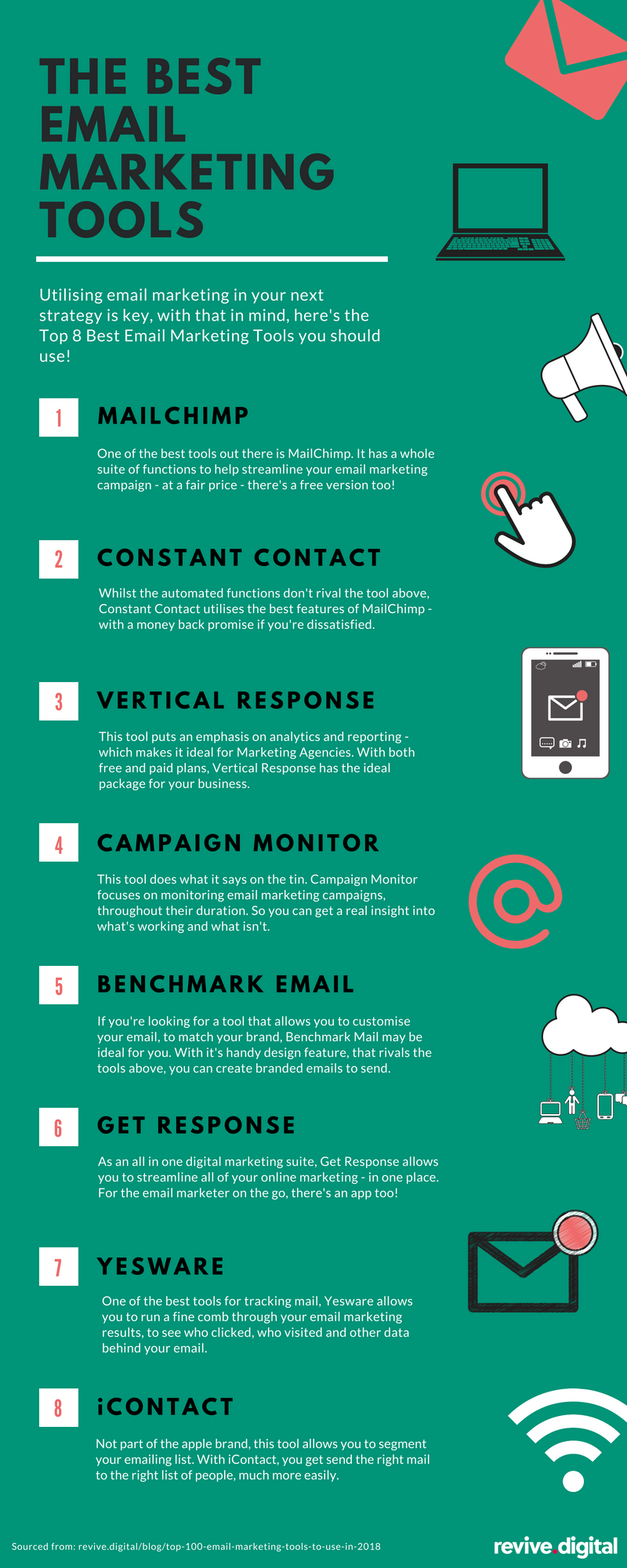 Resouce Link: Top 100 Email Marketing Tools 2018 – Slideshare